Rava ladoo/ Rava laddu is a very easy and delicious recipe that is usually prepared during festivals or any special occasion. Rava ladoo takes very less time to prepare and also involves only handful ingredients in its making so it can be made easily even by beginners. This ladoo recipe does not involve making of sugar syrup or any complicated procedure which is why it is one of my favorite ladoo recipe. Rava ladoo is prepared with roasted rava/ sooji, sugar and ghee. Tomorrow is new year in USA and wanted my last post of 2016 and first post of 2017 to be sweet recipe, so thought to post this recipe which is one of family's all time favorite. For the below recipe i used less quantity of sugar which can be altered according to your taste. So lets get to the making!
Wish you all a very happy and a prosperous new year!
[sam id="1″ codes="true"]
Ingredients
Rava/ Sooji – 1 cup
Sugar – ½ cup
Cardamom powder – ¼ tsp
Ghee – 1/3 cup
Cashews – 6
[sam id="2″ codes="true"]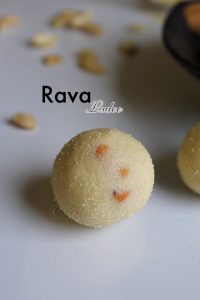 How to make rava ladoo with step by step images

In a pan add rava/ sooji and dry roast until aromatic in medium flame. Keep stirring continuously so that it does not get burnt. (Make sure not to brown it) Transfer the roasted rava/ sooji in a wide bowl and allow it to cool down.

Meanwhile heat 2 tbsp ghee in a pan and fry cashews until golden brown and keep it aside.

Now in a blender add roasted rava/sooji, sugar and cardamom powder. Grind it well until combined and powdered.

Now transfer the ground mixture in a bowl, add fried cashews along with ghee used for frying. Mix well.

Now take small portion of the rava ladoo mixture and make ladoo shape. Repeat the process till you finish the whole mixture. Serve it and store the remaining in air tight container.