Aaviri kudumu/ Steamed urad dal dumpling / Urad dal idli is a very soft and fluffy idli/dumpling prepared by grinding soaked urad dal into thick batter then steamed in idli plates and served. Urad dal idli is a very easy and quick to prepare breakfast which requires no fermentation of batter and requires only minimal hours of soaking. This easy recipe can be made even by beginners as this was the first batter that I learnt to make when I was a beginner when I struggled to make perfect dosa and idli batter. The only key to get perfect fluffy idli is to get grind thick batter by adding very little water. So lets get to the making!
THIS RECIPE CANNOT BE REPRODUCED FOR ANY OTHER BLOG PURPOSE.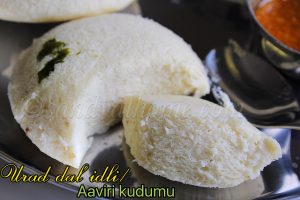 [sam id="1″ codes="true"]
Ingredients
Urad dal – 1 cup
Green chilli- 1
Cumin seeds – 1/4 tsp
Salt – to taste
Chopped cilantro – 1 tbsp
Oil – for greasing idli plate
[sam id="2″ codes="true"]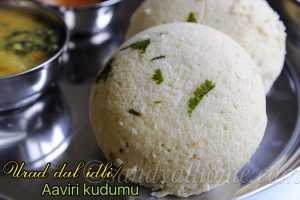 How to make Aaviri kudumu with step by step images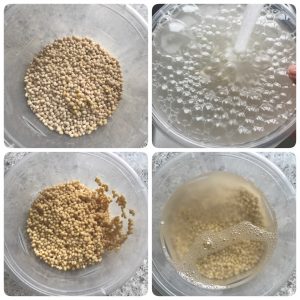 Wash and soak urad dal for 3 hours.

In a blender add the soaked urad dal, cumin seeds, green chilli and salt. Grind it into thick batter using minimum amount of water. (I used just 1/4 cup water while grinding).

Transfer it to a bowl and and the consistency should be very thick like vada batter and should not fall as soon as you take it in ladle. You can make idli as soon as you grind the batter.

Heat water in idli steamer. Now grease idli plates with oil in each mold. Put some chopped cilantro in each idli mold after greasing it with oil.

Now pour batter in each mold. Then wet your fingers with water and pat the batter in each mold to give it proper idli shape.

Now place the idli plates in the steamer and steam for 12 minutes.

When done remove the idli plates from idli steamer. Allow it to rest for 5 minutes. Now using a spoon take out each idli gently from each mold and serve it hot with sambar and chutney.