Honey cake is a really delish and melt in mouth cake prepared by drenching regular vanilla cake in a syrup consisting of sugar and honey which is then topped with jam and desiccated coconut. This so delicious cake is one of my childhood favorites and I don't know how many times I got it from the bakery, making my childhood a really happy one. Never attempted making this cake when I was in India during my college days but as we came to US when I really craved for this that's when I made it and turned out sooper yumm. I usually make this recipe with egg but 2 days back when I wanted to make it I had opened condensed milk tin at home so thought to make eggless version, which tasted the same as always. One thing I really like about this cake is it is beginner friendly recipe and also any damage to the cake will be fully covered so mistakes are allowed in this recipe meaning the cake should taste good at the end of the day. This is also my hubby favorite cake, though he is not a big fan of jam still likes this one.
So coming to the cake this recipe requires no hand blender as all you need to do is just blend the ingredients with whisk and bake but I used a hand blender just because I had it, so if you don't have it its completely fine the end result will still be perfect. So lets get to the making!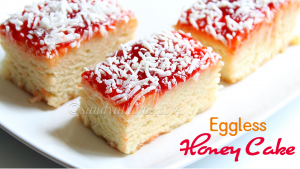 [sam id="1″ codes="true"]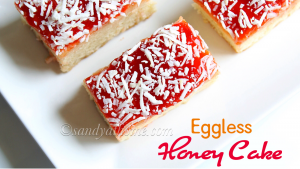 Ingredients
All purpose flour – 1 ¼ cup
Condensed milk – ½ cup
Milk – 3 tbsp
Sugar – ½ cup
Oil – ¼ cup
Baking powder – ½ tsp
Vanilla essence – ½ tsp
Ingredients for syrup
Sugar – 2 tbsp
Water – ¾ cup
Honey – ¼ cup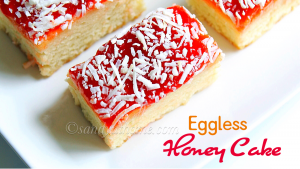 Note

* 1 cup = 160 ml


[sam id="2″ codes="true"]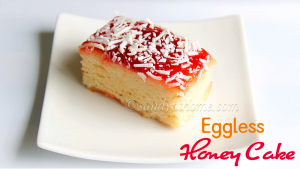 How to make Indian bakery style honey cake with step by step images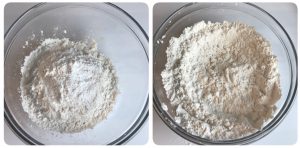 Preheat oven at 350 F/ 180 C. In a bowl add all purpose flour and baking powder. Mix well and keep it aside.

In another bowl add sugar, oil and condensed milk. Blend it well until combined. Now to this mixture add milk and blend it well again till combined.

Now add vanilla syrup and blend it well. Now to this wet mixture add the flour mixture and blend it well until combined and till forms cake batter.

Now grease a loaf pan/ cake tray with fewp drops of oil. Pour the batter in the loaf pan/ cake tray. Place the loaf pan with cake batter in the preheated oven and bake for 25 minutes. Every oven is different so if it is not baked in 25 minutes bake for some more time. When the cake looks done with brown sides and puffed up insert a toothpick in the center of the cake, if it comes out clean the cake is done, if it has some batter then bake for some more time.

Now when the cake looks done invert the cake and place it on a cooling rack for it to cool down. When the cake has cooled down prick the cake with toothpick to make as many holes as possible so that the sugar and honey mixture gets inside the cake and soaks it well.

Meanwhile in a pan add water and sugar, mix well and boil it till sugar melts. Then put off the flame and add honey and mix well. Keep the syrup aside for it to cool down.

Now to the pricked cake add sugar and honey syrup all over the cake. I placed the cake back in the loaf pan so that the cake can soak well in the syrup. Keep the cake aside for 5 minutes.

Meanwhile heat a pan add fruit jam and sugar. Keep stirring the mixture in medium flame and within 2 minutes the mixture will turn into liquid form. Put off the flame.

Now pour this jam mixture onto the soaked cake and top it. Now immediately garnish it with desiccated coconut. Trim the edges and cut the cake into rectangles or squares and serve it. Store the remaining cake in fridge.