Steamed eggless chocolate cake is prepared by steaming cake batter in low flame either in idli steamer or pressure cooker. This eggless chocolate cake is very easy to prepare and does not involve the use of hand blender, just mix all the ingredients in a bowl, steam and then serve. This simple and easy recipe yields super moist yummy cake just like the oven baked one. I got this recipe from one of my friend which I altered a bit, and still got very soft and lip smacking cake which my family loved a lot!
I got lot of requests from many of them to show an easy cake recipe without having to use the oven or hand blender and I think the below recipe justifies the request. So lets get to the making!
THE BELOW RECIPE CANNOT BE REPRODUCED FOR ANY OTHER BLOG PURPOSE.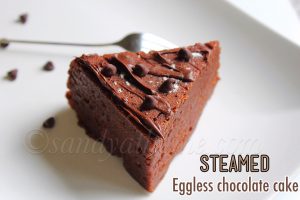 [sam id="1″ codes="true"]
Ingredients
All purpose Flour – 1 cup
Baking soda – ¼ tsp
Baking powder – 1 tbsp
Curd – 1 cup
Sugar – 1 cup
Unsweetened cocoa powder – 3 tbsp
Milk – ¼ cup
Oil – ¼ +1 tsp (for greasing pan)
Vanilla syrup – 1/4tbsp
Chocolate chips – 1 tbsp (for decor)
[sam id="2″ codes="true"]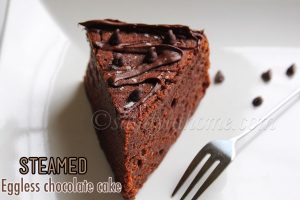 How to make Steamed eggless chocolate cake with step by step images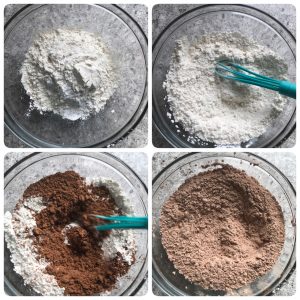 In a bowl add all purpose flour, baking soda and baking powder. Mix well. Now add cocoa powder and mix well.

Now in another bowl add sugar and oil. Mix well.

Now add vanilla syrup, curd and milk to the sugar mixture. Mix well until combined.

Now add the flour mixture to it and mix well.

Now grease any oven safe bowl with oil and pour the cake batter in it.

Heat enough water in a idli steamer/ pressure cooker to steam cake for 40 minutes. Place a stand/ tray over the water. When the water starts to boil place the bowl with cake batter on the plate/ tray placed inside the idli steamer. (Make sure the cake tin/ bowl fits in the cooker/ idli steamer).
Cover it with the idli steamer lid/ pressure cooker lid without whistle/ gasket.

Steam for 40 minutes in low to medium flame. Every stove is different so if it is not done in 40 minutes steam for 10 more minutes or until done. Now insert a toothpick in the center of the cake after 40 minutes, if it comes out clean remove it from the steamer. (The cake will have some cracks on top which is common)
Invert the cake bowl after 5 minutes and place the cake on cooling rack and allow it to cool down.

When cooled completely slice it with a knife into desired shapes and serve! The below step is optional one.

In a microwave safe bowl heat the chocolate chips for 20 seconds. Keep stirring with a spoon and it will start to melt. Now make your favorite designs using melted chocolate chip and serve!