Watermelon seed burfi is a new and interesting sweet recipe that I am happy to introduce in my blog as it is a sweet fudge that no one has ever heard or tasted it. This watermelon seed burfi is not only new it is very easy to make and involves just 5 simple ingredients and takes just 15 minutes to prepare and serve. watermelon seed burfi has a texture similar to regular mysore pak but differs in taste and is more like eating watermelon seeds in cooked version. This burfi does not require any continuous stirring nor it involves any spluttering making it a beginner friendly. This burfi demands preparation of one string consistency and if you know to make it right then this burfi will be made in no time. So my dear beginner friends it is completely fine if you don't get it right the first time. So lets welcome UGADI the new beginning with a new and innovative sweet. So lets get to the making !
HAPPY UGADI TO ALL!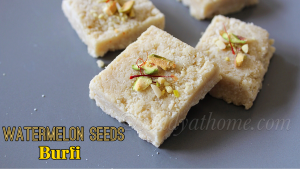 Ingredients
Watermelon seeds – ¾ cup
Sugar – ½ cup
Water – ¼ cup
Cardamom powder – ¼ tsp
Ghee – 1 tsp + ½ tsp (for greasing tray)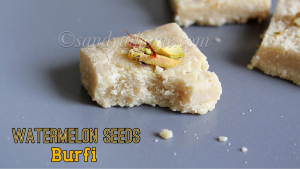 Note

* 1 cup = 160 ml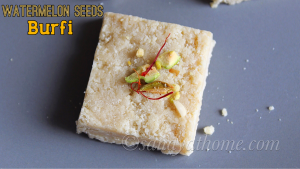 How to make watermelon seeds burfi with step by step images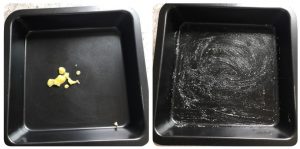 Grease a tray/ plate with few drops of ghee and keep it aside.

In a blender add watermelon seeds and grind into powder. Do not over grind it as the powder will release oil which will make the powder crumbly.

In a non stick pan add sugar and water. Mix well and allow it to boil in medium flame till reaches 1 string consistency. (one string consistency means when you take the sugar syrup in between your index finger and thumb till should form a string/ thread) It took around 5 to 7 minutes to achieve this consistency.

So when 1 string consistency is achieved put the flame to low and add the watermelon seed powder and cardamom powder. Mix well so that it get incorporated well in sugar syrup. Keep stirring and the mixture will come together leaving the sides of the pan.

When the mixture comes together and leaves the sides of the pan add 1 tsp ghee. Mix well and put off the flame. (It took 4 to 5 minutes to get this consistency in low flame) Now act quickly without any delay as the mixture will harden up in no time. Now transfer the mixture immediately on to the greased tray and flatten it using a spoon. By the time you flatten the mixture will harden.

Now grease a knife with little ghee and slice the burfi in desired shapes and serve with chopped pistachios and saffron strand as garnish!

How to make sugar syrup with one string consistency/ thread consistency
In a pan add sugar and water. Mix well and allow it to boil in medium flame.
When the syrup starts to thicken take little syrup in your index finger, try to stretch it using your thumb which means the syrup stays between your index finger and thumb. If you see single string/ singe thread/ only thread without having lot of strings nearby while stretching the sugar syrup is in correct stage, if you find no string allow it to boil for few more seconds and keep checking till you get it right, it is completely fine to keep checking it when you are a beginner!