Popsicles are frozen treat or snacks loved by kids and adults. They are made by pouring colored liquid in a mold with a stick placed in the center and frozen. Popsicle's and juices are the best way to incorporate fruits in one's diet during summer according to me. Imagine when they are made with fruit purees or juice along with few chunks of fresh fruits. Awesome right! It is so easy to make and will take only 5 minutes for preparing and will taste much better than the store ones. Lets freeze them!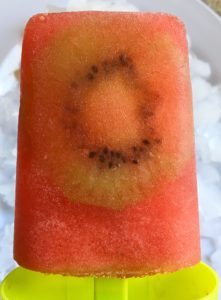 [sam id="1″ codes="true"]
Ingredients
Watermelon – 8 cubes
Kiwi – 4 slices
Strawberry – 4 slices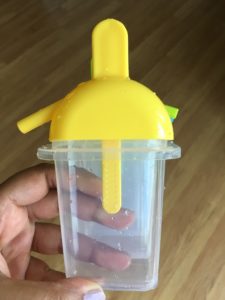 [sam id="1″ codes="true"]
Directions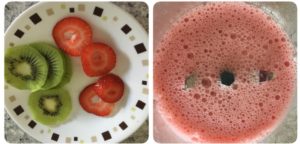 Juice watermelon  in a blender ( No sugar and water).
Take Popsicle maker and add a slice of strawberry and kiwi.
Now pour watermelon juice to it. Close it with the cap and refrigerate for 5 hours. After 5 hours run the bottom part of Popsicle mold in warm water for 15 -20 seconds to unmold it and enjoy Popsicle.