Puliyodharai/ Pulihora with a mild tanginess and spiciness with crunchiness from dal and peanut serves as prasad in many South Indian temples and is also made during some festivals in my family apart from regular cooking days. Puliyodhari is very easy to make and even more easier now as we get ready made powder and paste/thokku in packets, but making puliyodharai just like the temple ones is more challenging one according to me as it tastes divine and cannot be matched with our cooking i think. Trust me in my 8 years of cooking any good cook i meet i first ask their puliyodharai/ pulihora recipe as I am that crazy about it till date. This temple style puliyodharai recipe that i got from my aunt somehow matched with a famous temple pulihora recipe which received positive feedback from my family members too so I thought to share it in my blog today as it is going to be ugadi in USA tomorrow and on Wednesday in India, where pulihora is one such important dish in the meal. This temple style pulihora is super easy to make and also requires very basic ingredients in its making which makes it easy for beginners. The major change made in the recipe is that I cooked the rice with turmeric powder to achieve that temple stye pulihora color and taste. One important thing after you make the pulihora remember not to serve it immediately as the rice needs some time to absorb the flavors, 1 hour after preparation should be ideal to serve, the more time you leave it the more will be its taste. So lets get to the making!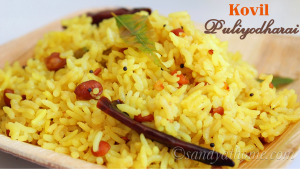 [sam id="1″ codes="true"]
Ingredients
Tamarind – lemon sized
Water – 1 cup approx (to soak tamarind)
Mustard seeds- ½ tsp
Urad dal – 1 tsp
Channa dal- 1 tsp
Peanuts – 10 (with skin)
Dried red chilli – 4
Curry leaves – a spring
Salt – to taste
Sesame oil – 2 ½ tbsp
Ingredients To roast and grind
Coriander seeds – 1 tsp
Dried red chilli – 1
Fenugreek seeds – ¼ tsp
Peppercorn – ¼ tsp
Ingredients For cooking rice
Rice – 1 ½ cup
Turmeric powder – ¼ tsp
Water – 3 cups (to cook rice)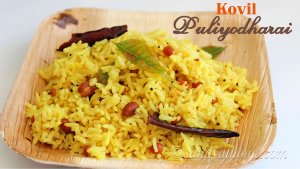 Note

* 1 cup = 160 ml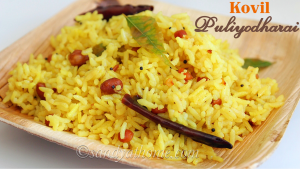 [sam id="2″ codes="true"]
How to make kovil Puliyodharai with step by step images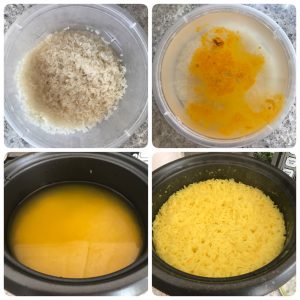 Wash rice, add water and turmeric powder. Mix well and cook rice till done as usual. When the rice is cooked fluff it gently and it cool down a little.

In a bowl add tamarind and water. Soak tamarind for 30 minutes. After 30 minutes extract thick tamarind juice and keep it aside.

In a kadai/ pan add coriander seeds, dried red chilli, peppercorn and fenugreek seeds. Dry roast until aromatic. When done pit off the flame and allow it to cool down. When the mixture is cooled add it to the blender and grind it. Keep the powder aside.

Now heat oil in a kadai, add mustard seeds after it splutters add peanuts, urad dal, channa dal when dal turns golden brown add dried red chilli and curry leaves. When aromatic add the tamarind extract and salt. Mix well and cook the mixture in medium flame till the raw smell goes.

When the mixture starts to thicken add 1 tbsp of ground mixture and mix well. When the tamarind mixture looks thick and when oil has separated in the sides put off the flame and allow it to cool down. When the mixture has cooled down add the cooked rice and mix well. Serve it after 1 hour as the rice will needs time to absorb the tamarind mixture after which it will taste great!