Potato podimas/ Potato stir fry is a very easy and quick recipe prepared by tossing cooked potato cubes in onion mixture. This spicy and yummy stir fry takes only 7- 10 minutes to prepare if you have boiled potatoes ready at home. This stir fry goes well with rice or roti and specially on rainy days with hot rasam. So if you are beginner looking for simple and quick stir fry recipe this could be your choice. For the below recipe chilli powder can be substituted with green chilli as well. So lets get to the making!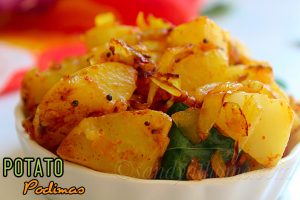 [sam id="1″ codes="true"]
Ingredients
Boiled potato – 2
Onion – 1
Mustard seeds – ½ tsp
Urad dal- 1 tsp
Red chilli powder – 1tsp
Turmeric powder – ¼ tsp
Salt – to taste
Oil – 1 tbsp
Curry leaves – a spring
[sam id="2″ codes="true"]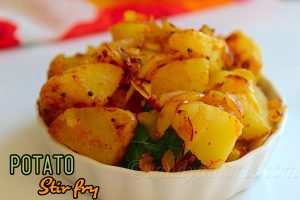 How to make Potato podimas with step by step images

Peel and cut boiled potatoes into cubes.

Heat oil in a pan add mustard seeds, after it splutters add urad dal, when it turns golden brown add curry leaves and chopped onion. Saute well. Now add chopped potato cubes, red chilli powder, turmeric powder and salt.
Toss well. After 2 to 3 minutes, when raw flavor of the spices go and when everything looks combined, put off the flame and serve.