This spicy egg fry is a real treat for all onion and egg lovers. So I made this recipe since the boiled eggs served along with breakfast dint go well as planned and i decided to make egg fry with them and it was a huge hit. So u can make use of your left over boiled egg this way or u can use freshly made as well. The key ingredient is onions and to enhance the vepudu /fry flavors even more I used fried onions. So let get to the making !
[sam id="1″ codes="true"]
Ingredients
Egg – 2
Onions – 1
Fried onion – ¼ cup
Green chili – 1
Chili powder – ¼ tsp
Garam masala powder – ½ tsp
Oil – 1 tbsp
Curry leaves a spring
[sam id="2″ codes="true"]
How to make egg fry with step by step images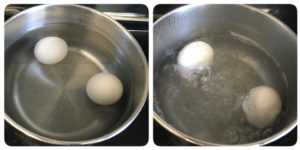 Boil in eggs in water until hard boiled. When it cools down cut them into 2 pieces
Heat oil in a pan add curry leaves, chopped onions and green chili. Saute till the onions become slightly brown. Now add fried onions to it and saute.
Now add chili powder, garam masala powder and salt. Saute well until the raw smell goes.
Now in the center of the pan place the boiled eggs so that yolk touches the pan. After few seconds flip the eggs carefully so you don't separate the white and yolk. Now combine everything well and serve it hot with rice.