It was during my school days my dad bought this delicious kappa fry sold in some shop when we newly shifted to abudhabi. I finish the whole box , It was that yummy I can say I dint bother to share it with anyone. Since then my mom started preparing this recipe with little variations. For this recipe i used frozen tapioca and it tasted so good. So lets get tho the recipe!
[sam id="1″ codes="true"]
Ingredients
Tapioca cubed – 2 cups
Green chili – 1
Turmeric powder – 1/4th tsp
Mustard seeds – 1 tsp
Urad dal – 1 tsp
Curry leaves a spring
Oil
Water to boil tapioca / kappa
[sam id="2″ codes="true"]
How to make kappa fry with step by step images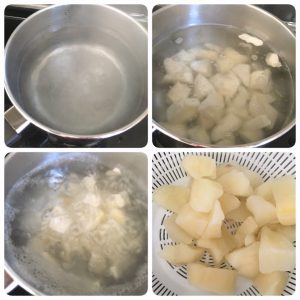 Heat water in a vessel and add salt. When the water starts boiling add in the tapioca cubes. Cook till it get soft and drain the excess water and keep the cooked tapioca aside.
Now heat oil in a pan add mustard seeds,urad dal and curry leaves. When urad dal turns golden brown add turmeric along with chili and cooked tapioca.
Now give it a gentle stir and put off the flame.
Now kappa fry is ready to be served with rice and curry.