Egg kurma/ Muttai kurma is a delicious and very flavorful thick gravy prepared by cooking eggs in spicy coconut mixture. Egg kurma is a versatile gravy that is quick to make goes well with many main dishes and can be served for breakfast, lunch and also for dinner which is a real bliss. Yes egg kurma goes well with idli, dosa, rice, biryani, chapati, parotta, poori, idiyappam, appam and many more main dishes. Now coming to the procedure, this kurma/korma is prepared just like the regular kurma made at home with all those everyday ingredients but for this particular recipe I reduced tomato count and I used a little extra oil to get hotel style consistency and also the look, which is fine to make once in a while I feel, other than that everything is same. So if you have lot of eggs at home then make this delicious gravy for a Sunday brunch and enjoy! So lets get to the making!
You may be interested in other kurma recipes:
[sam id="1″ codes="true"]
Ingredients
Eggs – 4
Onion – 1
Tomato – 1
Green chili – 1
Ginger garlic paste – ½ tsp
Turmeric powder- ¼ tsp
Red chili powder – 1 tsp
Coriander powder – ½ tsp
Garam masala powder – 1 tsp
Oil – 2 tbsp
Salt – to taste
Chopped Cilantro – for garnish
Ingredients for grinding
Grated Coconut – 4 tbsp
Cashew – 8
Green chilli – 1
Cumin seeds – ¼ tsp
Fennel seeds – ¼ tsp
Whole spices
Bay leaf – 1
Star anise – 1
Clove – 2
Cinnamon stick – ½
Cardamom – 1
Fennel seeds – ¼ tsp
Cumin seeds – ¼ tsp
[sam id="1″ codes="true"]
How to make egg kurma with step by step images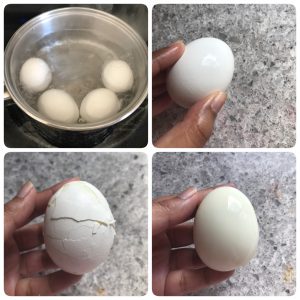 In a pot add water and gently place the eggs in it. Allow it to boil well and cook the eggs. When the eggs look cooked drain the water. When the eggs are warm enough to handle deshell the eggs and keep it aside.

Chop onions, tomato and green chili. In a blender add grated coconut, cashew nuts and green chilli. Grind it into a fine paste adding little water.

Now in a pan/kadai add whole spices when aromatic add chopped onions and. Saute well. When onions look sauteed add ginger garlic paste. Saute well until the raw smell of ginger garlic paste goes. Now add chopped tomatoes, salt, turmeric powder, red chilli powder, garam masala powder and salt. Mix well and cook till tomatoes get mushy.

When the tomatoes look mushy add the ground coconut paste and give it a good stir. When it starts to boil add required amount of water to get kurma consistency. Mix well and allow the mixture to boil well.

Now add the cooked egg and mix everything well. Put on the lid and allow the mixture to boil well in medium flame. After 2 to 3 minutes open the lid when desired kurma consistency is reached put off the flame and garnish it with cilantro and serve it hot!