Kulfi is a rich and creamy Indian ice cream prepared with whole milk, nuts and saffron for taste and flavor. Kulfi than any other regular ice cream has unique flavor, chewy texture with nuts in every bite and of course with peculiar taste. It can be prepared in lot of flavors and varieties but this recipe is very simple and easy that takes very little time  to prepare and most importantly with minimal and basic ingredients that anyone is aware of. This easy recipe has a color and taste same as store bought ones and you can easily surprise your family and friends with these delish kulfi. This recipe was asked by my darling friend from a very long time but due to the missing popsicle mold and the arrival of new one took very long time. But before the original popsicle mold reached me I got these colorful popsicle mold from daiso. So kaushi darling here is your favorite kulfi recipe to surprise your loved one. So lets get to the making!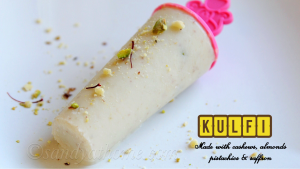 [sam id="1″ codes="true"]
Ingredients
Milk – 2 cups
Cashews – 4
Pistachio – 2
Almond/ Badam – 2
Saffron strands – 6
Ingredients For grinding
Sugar – ½ cup
Cashews – 6 to 8
Almond/ Badam – 6
Pistachio – 6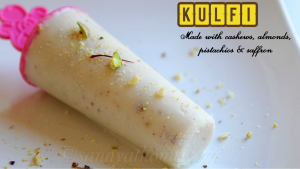 Note

* 1 cup = 160 ml


[sam id="2″ codes="true"]

How to make kulfi with step by step images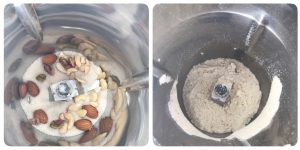 In a blender add sugar, cashews, almond and pistachios. Grind it into fine powder and keep it aside.

Now in a mortar and pestle add 4 cashews, 2 almond and 2 pistachio. Crush them coarse and keep it aside. If you don't have mortar and pestle you can simply chop them it grind it coarse in blender.

Heat a pan, add 2 cups of milk, allow it to boil well. When the milk boils lower the flame and allow it boil again for repeated times in a way that ¼ th quantity is reduced. (Simmering of milk in medium flame)

Now add the ground sugar and nuts mixture to it and mix well. Give it a good stir and allow the milk to boil well. After 3 to 4 minutes the milk will get a little thicker in a way when you pour it from a spoon its flowing consistency changes to thick. (not too thick like condensed milk)

After 3 to 4 minutes of boiling add the crushed nuts and saffron. Mix well and allow it to boil for 2 minutes. Now put off the flame and allow the mixture to cool down.

When the mixture has cooled completely pour the kufli mixture in Popsicle mold and freeze it for 7 hours or overnight. I usually make it at night and freeze it overnight as it gives best results.

After 7 hours of freezing run the bottom part of popsicle mold in warm water for just 5 seconds. Gently remove the kulfi from popsicle mold and serve it. You can also garnish it with crushed nuts and saffron!