Baked onion samosa/ Irani samosa is a mini sized excellent savory snack filled with spicy onion mixture is usually served along with hot tea/ chai. Baked onion samosa is a healthy version of the regular onion samosa as only a tbsp of oil is used in its preparation. So to prepare this samosa you don't need to switch on the stove at all as the stuffing needs no cooking and all you need is just 20 minutes to prepare this samosa as the cooking time is eliminated and the samosas will be baked. This is a beginner friendly recipe with few simple ingredients and also a easy preparation yielding in same crispy outer and soft cooked interior just like the fried ones.
So below is the making video of baked samosa to make it easy for beginners. So lets get to the making!
Baked onion samosa making video
Ingredients For dough
Maida – 1 cup
Salt – to taste
Oil – 1 tsp
Water – to knead soft dough
Ingredients For filling
Onion – ¾ cup (finely chopped)
Thick poha/ Aval– ¾ cup
Salt – to taste
Cumin seeds – ¼ tsp
Red chilli powder – ½ tsp
Garam masala powder – ½ tsp
Amchur powder – a pinch (optional)
Chopped cilantro – 2 tbsp
Oil – 1 tbsp (for brushing greasing)
Note

* 1 cup = 160 ml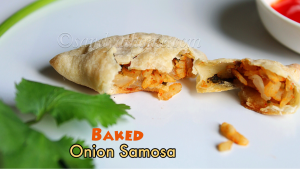 How to make baked onion samosa with step by step images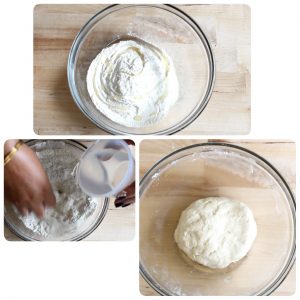 In a bowl add maida, salt and oil. Mix well and add water gradually to form a soft dough. When the dough is ready cover it keep it aside for 10 minutes.

Now in another bowl add chopped onion, poha/ aval, cumin seeds, salt, red chilli powder and garam masala powder. Mix well and keep it aside.

Dust the surface with little maida. Now take the dough knead once and flatten it using a rolling pin.

Using a round cutter cut out round pieces of dough and remove the extra dough.

Now roll the round dough into thin sheet. (Alternate method :You can divide the dough into equal portions of small ball and roll it thin as well)

Now using a knife divide the flattened dough into 2 parts. Keep one part aside.

Now with the another portion of sliced dough make a triangle. First keep the sliced part as top, then fold the left side making a triangle. Seal the edges tight using finger.

Now overlap the right (2) on left and seal tight. now when you lift you will be able to see a pocket. Now make space for filling.

Keep the filling in the center and seal it tight. Repeat the process till all the dough and filling is finished.

Preheat oven at 350F/ 180C. Grease a baking tray with oil. Place the uncooked samosas on the greased tray. Apply some oil over the samosa using a basting brush.

Place the tray in preheated oven and bake for 20 minutes.(You don't have to flip it) Every oven is different so if the samosa is not cooked in 20 minutes bake for 5 more minutes or until done. After 20 minutes take the tray from the oven serve the hot samosas with hot tea/ chai!