Rose falooda popsicle/ Falooda popsicle is a very tasty and easy to make popsicle that needs only handful ingredients in its making and also very less time to prepare. Rose falooda popsicle is nothing but tasting rose falooda in frozen form/ or in a popsicle. Yes the same taste is achieved in different form because summer can never be enjoyed without a popsicle. So if you have rose syrup at home try making falooda popsicle instead of regular falooda as drink. The below mentioned ingredients quantity is just a guide which can be altered accordingly, also the quantity mentioned yields 6 Popsicle in kulfi mold, so if you are using bigger popsicle mold change quantity accordingly. So lets get to the making!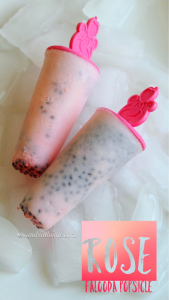 You may be interested in other summer recipes below:
[sam id="1″ codes="true"]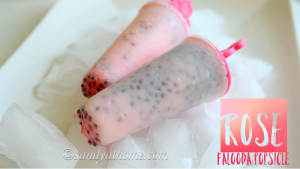 Ingredients
Milk – 1 cups
Sugar – 1 tsp
Rose syrup – 1 tsp +1 tbsp(to add in the mold)
Falooda sev/ Vermicelli – 6 tsp
Sweet basil seeds/ tukmaria/ sabja seeds – 1 tbsp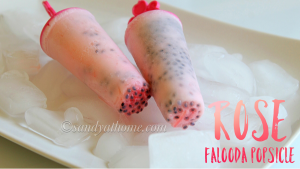 Note

* 1 cup = 160 ml


[sam id="2″ codes="true"]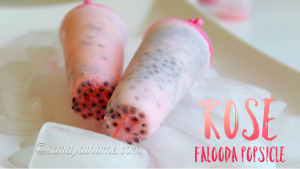 How to make Rose falooda popsicle with step by step images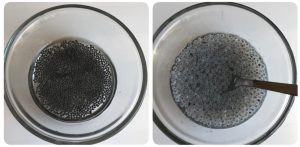 In a cup water add subja seeds/ sweet basil seeds. Mix well allow it to rest for 30 to 45 minutes so that they bloom i.e till they get plumpy with white layer on around each seed.

Heat water in a pot, add falooda sev/ vermicelli. Allow it to cook. When the sev/ vermicelli looks cooked drain the water using a strainer and keep the cooked falooda sev/ vermicelli aside.

In a pan/ pot add milk and allow it to boil. When the milk starts to boil add sugar and mix well. Now allow the milk to cool down.

When the milk has cooled completely add rose syrup and mix well.

Now in each popsicle mold add little rose syrup in each mold, then sabja seeds/ tukmaria as one layer.

Now add a layer of cooked falooda sev/ vermicelli.

Finally add rose milk in each mold insert the stick. Freeze it for 7 hours or overnight. I usually make it at night and freeze it overnight as it gives best results.

After 7 hours of freezing run the bottom part of popsicle mold in warm water for just 5 seconds. Gently remove the falooda popsicle from popsicle mold and serve it immediately.