Lauki halwa/ Bottle gourd halwa/ Dudhi halwa is a very simple and quick to make halwa prepared with handful basic ingredients similar to carrot halwa. Lauki halwa is one such delicious halwa that can be made easily in no time for any special occasion even by beginners. This halwa can be prepared either in pressure cooker method or in pan method using khoya / condensed milk, but for the below recipe I used regular milk just like my MIL because in my family we don't eat lauki/ bottle gourd according to our customs and I have never seen my mom buy / make it and I got used to lauki from my sis- in- law, then from my MIL. So if you are looking for a quick and easy halwa recipe loaded with health and taste this could be your choice. So lets get to the making!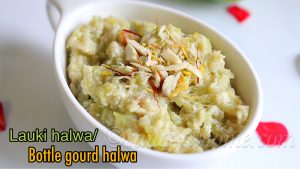 [sam id="1″ codes="true"]
Ingredients
Grated lauki/ bottle gourd/ sorakay – 2 cup
Milk – 1 ½ cup
Sugar – ¾ to 1 cup
Cardamom powder – ¼ tsp
Ghee – ¼ cup
Cashews – 6
Almond slices – 1 (for garnish)
Saffron strand – few (for garnish)
[sam id="2″ codes="true"]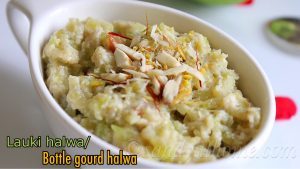 How to make Lauki halwa with step by step images

Wash, peel and grate lauki/ bottle gourd/ sorakay.

Heat ghee in a pan fry cashews until golden brown. Now add grated lauki in it and saute well in medium flame. Keep stirring occasionally keeping an eye on the pan.

When the lauki is ¾ done and has reduced in quantity, add milk to it and give it a good stir. Allow it to boil well stirring the mixture every now and then.

When the mixture looks semi solid add sugar and mix well.
Keep stirring and when the lauki/ bottle gourd mixture starts to leave the pan and has halwa consistency put off the flame. Garnish it with almond slices, saffron strand and serve it hot/ cold.