Garlic pull-apart rolls are a cheesy, spongy and fluffy bread infused with herbs and garlicky flavor. These pull – apart rolls are a mash up of biscuits (American) and garlic bread leading to deliciousness. These rolls are very easy to make and can be easily accompanied with your morning coffee/ tea as breakfast or snack. All you need is 5 minutes for kneading, 5 minutes for mixing and arranging and your breakfast/ snack is ready! Not to forget the work done is less for this recipe compared to the wait time. I have used garlic powder in order to cut down its strong flavors but you can add chopped garlic too, also I used chopped cilantro for garnish and to make it more aromatic which can be skipped. So lets get to the making!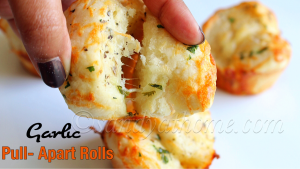 [sam id="1″ codes="true"]
Ingredients
All purpose flour – 1 ½ cup
Yeast – ¾ tsp
Sugar – ¼ tsp
Milk – ¼ cup
Water – ¼ cup
Salt – to taste
Melted Butter – 2 tsp
Ingredients For mixing
Melted Butter – 2 tbsp
Shredded Cheese – ½ to 1 cup ( I used mozzarella)
Garlic powder – ½ tsp
Dried Parsley – ½ tsp
Chopped cilantro – 1 tsp (optional)
Note

* 1 cup = 160 ml


[sam id="2″ codes="true"]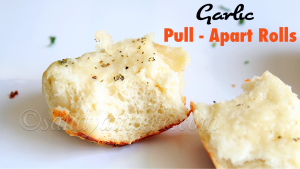 How to make Garlic pull- apart rolls with step by step images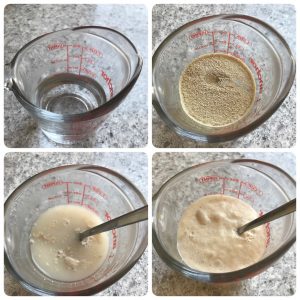 In a cup add warm water, add yeast and sugar. Mix well with a spoon and keep it aside for 10 to 15 minutes or until frothy in a undisturbed place.
When the yeast mixture has become frothy its ready to be used.

Now a in a wide bowl add all purpose flour, salt, butter and milk. Mix well. Add the yeast mixture to the flour mixture. Mix well and knead it will.

Initially the dough will be little sticky as you continue kneading it will get better. Knead the mixture into a soft dough, this should about 3 to 5 minutes. Now rest the dough covered for 5 minutes.

After 5 minutes transfer the dough from the bowl to a cutting board. Divide the dough into 8 portions using a knife. I first divided the dough into 2 equal portions then made it into 8 pieces. Does not matter what size it looks.

Now transfer the sliced dough pieces into the bowl. Add melted butter, dried parsley, cheese and garlic powder which can be replaced with finely chopped garlic as well. Mix everything well with gentle touch.

Now grease a muffin pan with little butter in each mold. I greased just 6 mold. Now place 2 pieces of dough in each mold along with some cheese. Repeat the process for all the mold. I kept only 2 in each mold as they will rise.
Now cover the muffin tray with a cloth and let the dough rest for 30 minutes.

Preheat oven at 350 F/ 180C . After 30 minutes you will see the the dough risen a little. Now garnish it with chopped cilantro.

Place the tray in preheated oven and bake for 15 minutes or until done. Every oven is different so timing may vary. when done they will look golden brown in edges and would have risen.

When done remove it from oven and using a basting brush apply little butter on the top of the rolls. Remove it gently from muffin mold and serve it hot!