Rose falooda is a very flavorful and delicious summer dessert that takes just minutes to prepare with just few summer essential and everyday ingredients. This rose falooda is a rich dessert and has layers of red jelly, falooda sev, sweet basil seeds/ tukmaria, rose milk, ice cream and of course is topped with nuts for crunchiness and added taste. So if you like rose milk then this dessert is just right for you as few additions creates all that magic and turns it to yummilicious. The measurement for all ingredients are for reference and can be changed according to individual preference. So lets get the making!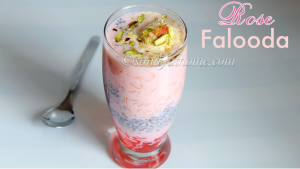 [sam id="1″ codes="true"]
Ingredients
Milk – 2 cups
Sugar – 2 tsp
Rose syrup – 2 tsp (store bought)
Falooda sev/ Vermicelli – 3 tbsp
Sweet basil seeds/ tukmaria/ sabja seeds – 2 tbsp
Red jelly – 1 (store bought)
Vanilla Ice cream – 2 scoops
Pistachio – 2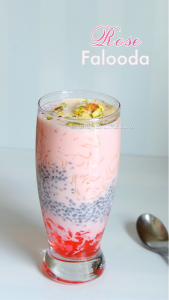 Note

* 1 cup = 160 ml


[sam id="2″ codes="true"]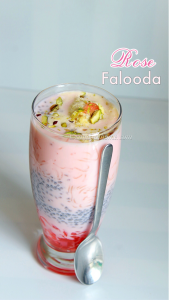 How to make rose falooda with step by step images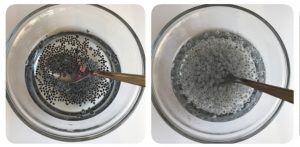 In a cup water add subja seeds/ sweet basil seeds. Mix well allow it to rest for 30 to 45 minutes so that they bloom i.e till they get plumpy with white layer on around each seed. Chop nuts, mango and strawberry. Keep it aside.

Heat oil in a pot, add falooda sev/ vermicilli. Allow it to cook. When the sev/ vermicilli looks cooked drain the water using a strainer and keep the cooked falooda sev/ vermicelli aside.

Boil milk and set for it to cool down. In a blender add chilled milk, sugar and rose syrup. Blend it until frothy and combined. (You can chill it in fridge for 30 minutes or use chilled milk for preparation) keep the rose milk aside.

Now in a serving glass add sabja seeds/ tukmaria as base layer, over which put a layer of cooked falooda sev/ vermicelli and rose milk.

Now over the rose milk add remaining sabja seeds/ tukmaria seeds, ice cream scoops, chopped nuts and serve it immediately.