Finally its summer in my kitchen too irrespective of the weather in CA!
Mango falooda is a very delicious summer dessert made with mango puree, sweetened milk, falooda sev, sabja seeds/ tukmaria seeds, nuts and ice cream. Sounds yummy right! Yes a combination of above mentioned items makes a real treat for all those mango lovers out there and a little temptation to mango haters too. This mango falooda is such a simple and easy recipe made with all those summer essential ingredients found in the kitchen and of course a little preparation that takes very less time. All the measurement mentioned below is just for reference and can be changed according to individual taste and if you don't have any of these items at home you can substitute with items available at your home or can also altered accordingly. So below is the recipe that my family enjoys and I hope my readers enjoy it to. So lets get to the making!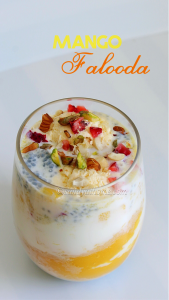 [sam id="1″ codes="true"]
Ingredients
Mango puree – 1 cup
Milk – 1 cup (boiled, added sugar and cooled)
Mango chunks – ¼ cup
Honey/ Sugar – 2 tbsp
Pistachios – 1 tbsp (chopped)
Cashews – 2 tbsp (chopped)
Almonds – 2 tbsp (chopped)
Strawberry – 1 tbsp (chopped)
Falooda sev/ Vermicelli – ¼ cup
Sabja seeds/ tukmaria/ sweet basil seeds – 2 tbsp
Ice cream scoops- 2 (Vanilla/Mango)
Cherry – 1 (for garnish)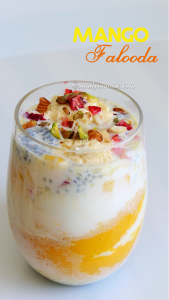 Note

* 1 cup = 160 ml


[sam id="2″ codes="true"]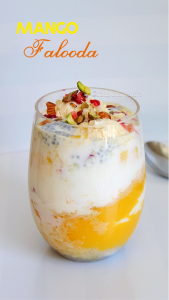 How to make mango falooda with step by step images

In a cup water add subja seeds/ sweet basil seeds. Mix well allow it to rest for 30 to 45 minutes so that they bloom i.e till they get plumpy with white layer on around each seed. Chop nuts, mango and strawberry. Keep it aside.

In a blender add mango pieces and grind it into fine puree. Keep this mixture aside.

Heat water in a pot, add little falooda sev/ vermicilli. Allow it to cook. When the sev/ vermicilli looks cooked drain the water using a strainer and keep the cooked falooda sev/ vermicelli aside.

Now in a serving glass add sabja seeds/ tukmaria as base layer, over which put a layer of cooked falooda sev/ vermicelli, mango puree and a layer of honey which is optional. I did add honey as my mangoes very little less sweet.

Now add a layer of nuts, chopped mangoes, sweetened milk and remaining sabja seeds/ tukmaria seeds.

Now for the final touch add ice cream scoops, chopped nuts and chopped strawberry/ cherry. Now serve this mango falooda immediately!