Eggless fudgy brownies are super delicious chocolate brownies that are dense, chewy, fudgy in the middle with crinkly top, topped with or without walnuts. These brownies are super easy to make and demands very basic ingredients in its making. Also it does not involve the use of hand blender or whisking and most importantly this recipe is beginner friendly. So lets get to the making!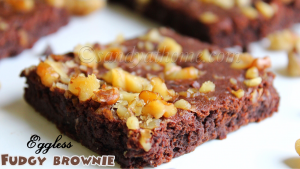 [sam id="1″ codes="true"]
Ingredients
All purpose flour- ¾ cup
Baking powder – 1 tsp
Unsweetened Cocoa powder – ½ cup
Chocolate chip – ½ cup
Melted butter- ½ cup
Yogurt – ½ cup
Water – ½ cup
Sugar – ½ cup
Walnuts – 10 (chopped)
[sam id="2″ codes="true"]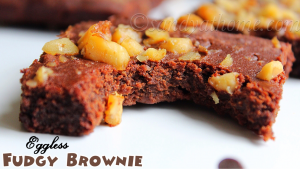 How to make Eggless fudgy brownie with step by step images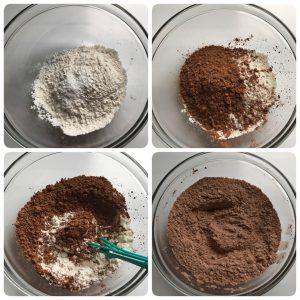 Preheat oven at 350 F/ 180 C. In a bowl add all purpose flour, baking powder and cocoa powder. Mix well using a whisk until combined.

In a bowl add melted butter and choco chip. Microwave for just 20 – 30 seconds. Now using a spoon stir it well and you will notice the choco chip melting. Mix well until combined.

Now add sugar and vanilla syrup to it and mix well until combined.

Now add curd and mix well, then add water and mix well until everything is combined.

Now add the flour mixture to it and mix well until flour is well incorporated with the wet ingredients and till a thick cake batter is formed.

Grease a cake pan using little butter. Now pour the brownie batter into the greased cake pan spread it evenly. Garnish it with chopped walnut.
Place the cake pan with batter in preheated oven at bake for 25 to 30 minutes or till done.

After 30 minutes insert a toothpick in the center of the brownie, if it comes out clean, the brownie is fully cooked, if it has some batter in it bake for some more time.
Allow the brownie to cool down and slice it with a knife into desired shapes and serve!