Tiffin sambar is a delicious and very flavorful sambar prepared specially to be served with dosa, idli, pongal, vada or any tiffin items. Tiffin sambar is usually prepared with carrot, beans, potato or pumpkin, creating combos with the veggies mentioned and add their goodness and taste to the sambar. Tiffin sambar is prepared with toor dal just like regular sambar served for lunch but an addition of a freshly ground masala powder makes all the difference giving this sambar a restaurant touch. Yes this sambar is close to the saravana bhavan tiffin sambar that we all have relished all these years and craved to make at home. So lets get to the making of the tiffin sambar!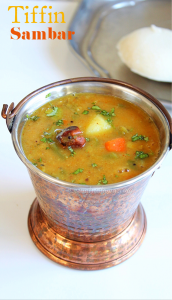 [sam id="1″ codes="true"]
Ingredients
Toor dal – ½ cup
Tomato – 1
Cumin seeds – ¼ tsp
Turmeric powder – ¼ tsp
Water – 1 cup (approx)
Tamarind – small gooseberry size
Carrot – 1 (small sized)
Green beans – 8
Potato – 1
Onion – 1 (small sized)
Red chili powder – ½ tsp
Coriander powder – 1 tsp
Sambar powder – 1 tbsp
Mustard seeds – ½ tsp
Fenugreek seeds – ¼ tsp
Curry leaves – a spring
Chopped cilantro – 1 tbsp
Hing – a pinch
Oil – 1 tbsp
Ingredients To roast and grind
Channa dal – 1 ½ tbsp
Coriander seeds – 1 tsp
Peppercorn – ¼ tsp
Cumin seeds – ¼ tsp
Dried red chilli – 2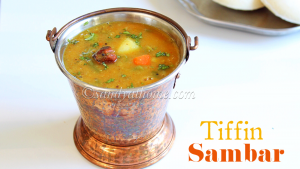 Note

* 1 cup = 160 ml


[sam id="2″ codes="true"]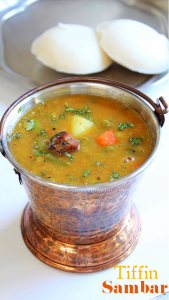 How to make tiffin sambar with step by step images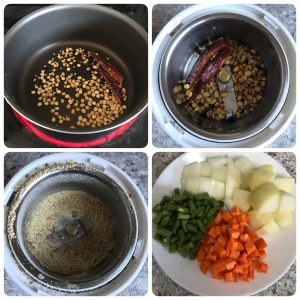 In a pan dry roast channa dal, coriander seeds, peppercorn, cumin seeds and dried red chilli together till aromatic in medium flame. When done put off the flame and allow it to cool down. When the ingredients have cooked down add it in a blender and grind it into powder. Now keep this ground powder aside. Chop onion, carrot, beans and peeled potato into cubes.

Wash and soak toor dal for 10 minutes. (Soaking helps dal cook faster) In a pressure add toor dal, tomato, cumin seeds, turmeric powder and 1 ½ cup water. Now in a separate bowl add chopped veggies and place it over the boiling dal in pressure cooker. Pressure cook for 3 whistles.

When the pressure has subsided open the cooker, take the veggies bowl out and keep it aside. Mash dal well and set aside.

Soak the tamarind in 1 cup warm water and extract the tamarind juice.

Heat oil in a kadai, add mustard seeds, after it splutters add dried red chilli, fenugreek seeds, curry leaves. Now add the cooked veggies and give it a gentle stir.

Now add mashed dal, tamarind extract, ground masala powder, red chilli powder, sambar powder and coriander powder. Give it a good stir and allow it boil well. When everything looks combined garnish it with chopped cilantro and serve it hot with idli/ dosa!