Thayir vadai/ Curd vada is a delicious South Indian snack prepared by adding soaked vada in tempered curd mixture and served with garnish consisting of boondi, carrot and finely chopped cilantro. Thayir vadai is my hubby's all time favorite and for that reason I make extra vada so that I can make this curd vada. The preparation is very simple if you have vada batter ready or if you have any leftover vada from breakfast. though this double soaked vada procedure requires some wait time, the result is lip smacking one. So lets get to the making!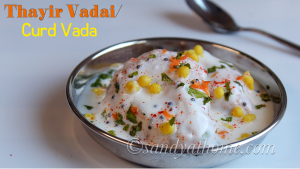 Ingredients
White urad dal – 1 cup
Water – ¼ cup (grinding)
Salt – to taste
Curry leaves – a spring
Peppercorn – ¼ tsp (optional)
Oil – for frying
Ingredients For thayir vadai
Curd – 1 cup
Water – ¼ cup
Mustard seeds – ½ tsp
Curry leaves – a spring
Green chilli – 1 (optional)
Salt – to taste
Oil – 1 tsp
Water – enough to soak vada
Ingredients For garnish
Grated Carrot – 2 tbsp
Chopped cilantro – 1 tbsp
Boondi – 3 tbsp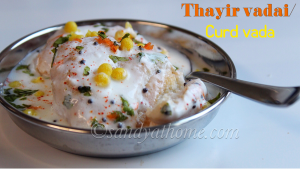 Note

* 1 cup = 160 ml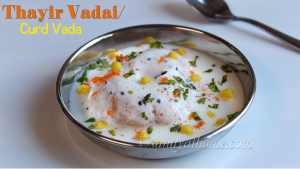 How to make Thayir vadai with step by step images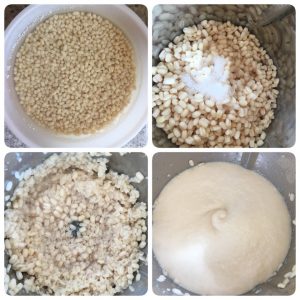 Wash and soak urad dal for 4 hours in enough water. After 4 hours add soaked urad dal and salt in a blender. Grind it into fine thick and fluffy batter adding little water. (I use around 1/4 cup water for grinding) Make sure not to add too much water as you wont be able to shape vada.

When the batter is ready add curry leaves and peppercorn. Mix well and keep it aside. Heat oil in frying pan. Now apply little water in ziploc cover, take little batter in hand and place it on the wet ziploc. Flatten it gently and make a whole in the center.

Now gently lift the ziploc in left hand and the shaped vada batter will fall off to right hand, gently slide it in hot oil and fry till golden brown and crispy on both sides. Repeat process till all the vadai batter is over. When the vadai looks golden color take it out using a slotted spoon and transfer it to a plate with paper towel.

Now in a bowl of hot water soak the vadai for 20 minutes. (You can soak all vadai together, since i made just for my hubby and i soaked only 1 vada)

Meanwhile whisk curd in a bowl and keep it aside. Add 1/4 cup water and mix well.

Heat oil in a small pan add mustard seeds after it splutters add curry leaves and hing. Now pour this tempering over whisked curd. Mix well.

After 20 minutes add the soaked vada in curd mixture for 15 minutes. After 15 minutes garnish the curd vadai with boondi, chopped cilantro and grated carrot.

Notes:
Instead of soaking vada in hot water for 20 minutes, you can boil the vada in water for 2- 3 minutes. This method saves time.
Do not skip soaking vada in curd mixture as this procedure yields better taste of curd vada.