Cauliflower pakoda/ Gobi pakora is a delicious and crispy fritter where batter coated blanched cauliflower/ gobi is fried in oil. This pakoda/ pakora/ pakodi is such an easy and handy snack recipe to satisfy that small evening hunger with the few basic ingredients that can be easily pulled out of the pantry. The important thing about this recipe is the fritters are naturally colored and I have not added any food color making it safe for health. Everyone prepares pakoda in various styles meaning the batter has different content, but this particular recipe is in my style which is always relished by my family. I have mentioned in few of my previous posts as well that only when its raining outside I make fried snacks at home, since its raining in CA I was reminded of this yummy fritters and since the same weather will continue thought to share this recipe of mine today! So lets get to the making!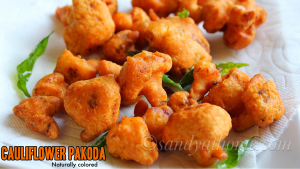 Ingredients
Cauliflower – small size
Maida – 2 tbsp (heaped)
Besan flour/ Kadalai maavu – 2 tbsp (heaped)
Rice flour – 2 tbsp
Corn starch – 1 tsp
Water- to make batter (¼ cup + 2 tbsp approx)
Ginger garlic paste – ¼ tsp
Red chilli powder – 1 tsp
Garam masala powder – ¼ tsp
Salt – to taste
Oil – for frying
Curry leaves – for frying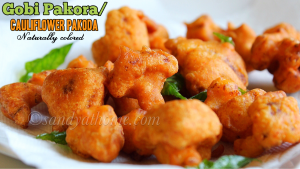 Note

* 1 cup = 160 ml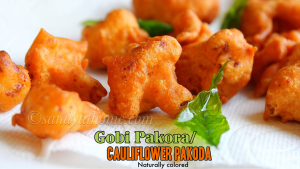 How to make cauliflower pakoda with step by step images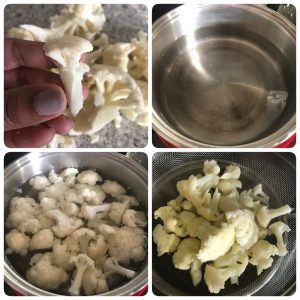 Take a small sized cauliflower and cut individual floret and keep it aside. Heat water in a pot/ vessel with little salt. To the boiling water add the cauliflower florets and blanch them. (Blanching should take only for 1 minute or 2, too much time will cook the cauliflower fully and it will break when added to the batter) Drain the water using a strainer and keep the blanched cauliflower aside.

In a wide bowl add besan flour, cornflour, rice flour, ginger garlic paste, red chilli powder, garam masala powder and salt. Mix well.

Now add water gradually to form a semi thick flowing batter. ( I used around ¼ cup+2 tbsp for my batter) Taste the batter before adding blanched florets to check for spiciness and salt.

Heat oil in a frying pan. Now add the blanched cauliflower in the batter. Mix well gently. Now drop individual batter coated cauliflower florets in oil one by one in the preheated hot oil.(Every make sure to dip/ coat florets well in the batter before dropping it in oil)

Fry them in medium to high flame until desired color is achieved with cooked interior. When done remove the cauliflower using a slotted spoon and transfer it to a plate with paper towel. Now after removing cauliflower from oil, in the oil fry some curry leaves for garnish and serve them along with hot gobi pakora with tea/ coffee!