Stuffed bread dahi vada is a really quick, yummy and easy to make snacks where non fried aloo stuffed bread vada is drenched in beaten silky curd. Adding green chutney, tamarind chutney along with crunchy garnish creates all that magic that a chaat snack demands. Everyone these days are always looking for some healthy, delicious and also a quick snack with least number of ingredients and work so here it is. This stuffed bread dahi vada requires no soaking, no frying and can be made easily according to your taste and preference. This recipe all about colors and combos is absolutely beginner friendly one as the cook time is the least and assembling and garnishing is all done.
How do I do it?
I usually make the chutney in the morning or the day before making this bread vada as the chutney remains good for about 3 days in refrigerator and both the methods are time saving.
I m so happy to share his favorite recipe of mine in the blog. So lets get to the making!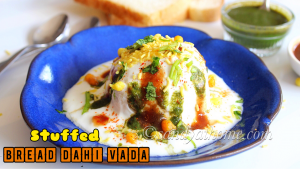 [sam id="1″ codes="true"]
Ingredients
Bread slices – 4
Water – 1/3 cup
Curd – 1 ½ cup (beaten well)
Ingredients For garnish
Green chutney – ¼ cup
Tamarind chutney – ¼ cup
Chaat masala – as required
Red chilli powder – as required
Chopped cilantro – 2 tbsp
Sev/ Ompodi – ¼ cup
Boondi – ¼ cup
Ingredients For stuffing
Potato – 1 ( boiled)
Green peas – 1/3 cup (boiled)
Salt – to taste
Red chilli powder – ½ tsp
Garam masala powder – ¼ tsp
Chopped cilantro – 1 tbsp
Oil – ½ tsp
Cumin seeds – ¼ tsp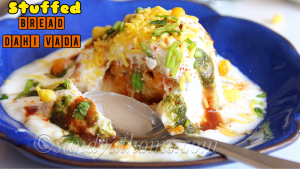 Note

* 1 cup = 160 ml


[sam id="2″ codes="true"]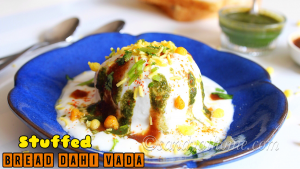 How to make Stuffed bread dahi vada with step by step images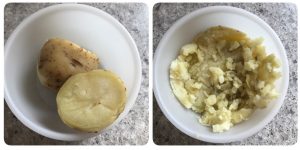 Peel boiled potatoes and mash it a little. I mashed it partially as I wanted it to be chunky.

Heat oil in a pan add cumin seeds, after it crackles add mashed potatoes, boiled peas, salt, red chilli powder and garam masala powder. Mix well until combined. Add chopped cilantro and mix well. Put off the flame and allow the mixture to cool down.

Take a bread slice chop off its sides (brown part).

Using fingers wet the bread well with water. Do not add too much water as the bread will be very soggy and will be mushy making it impossible to cover the stuffing. When it looks wet take a small portion of potato mixture and place it in the center of the wet bread. Now bring all the sides of the bread together and make a ball. Its ok if its not perfect.

Now take a fresh plate keep the bread ball in the center the folded part facing down. Add curd, tamarind chutney and green chutney. Now you can get creative and garnish it with your favorites. The below step is just to give a basic idea. Finally garnish it with chopped cilantro, ompodi/ sev, boondi and sprinkle some red chilli powder and chaat masala over it. Repeat the whole process till all the bread slice and stuffing is over. Serve it immediately! Too much soaking time can make the bread vada soggy!