Chicken pasta/ Chicken masala pasta is a colorful, spicy and flavorful pasta recipe prepared by tossing cooked pasta in desi style prepared aromatic masala. This chicken pasta recipe is very similar to the one that I posted long back with veggies, so it is very simple and easy as that of course with basic ingredients available in pantry. For the below recipe I used farfalle/ bow tie pasta variety as it looks very prettier according to me which can be replaced with any variety of your choice. Also I used chicken breast for this recipe as it cooks fast and can be consumed very easily, so I suggest using boneless chicken. So lets get to the making!
Beginner tip:
Always remember to add oil, salt along with water as this step prevents in sticking of pasta. Also add the pasta only when the water is boiling as this helps in cooking pasta fast eliminating wait time and soggy pasta. The last important step is to run the cooked pasta in cold water/ regular water preventing stickiness after draining the water with which it was cooked.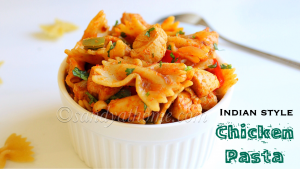 Ingredients
Pasta – 1 cup (farfalle / bow tie)
Chicken breast – 3 pcs
Ginger garlic paste – ½ tsp
Onion – 1
Tomato – 1
Green Capsicum – ¼ cup (chopped)
Red capsicum – ¼ cup (chopped)
Red chilli powder – ½ tsp
Garam masala powder – ½ tsp
Salt – to taste
Oil – 1 tsp
Chopped cilantro – 1 tbsp (for garnish)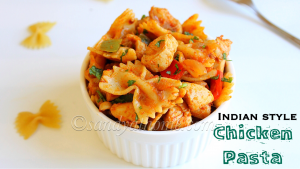 Note

* 1 cup = 160 ml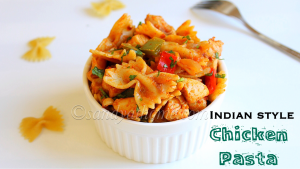 How to make indian style chicken pasta with step by step images

Chop onion and tomatoes finely. Chop capsicum into cubes. Clean, wash and chop chicken breast into small pieces and keep it aside.

In a pot add water, oil and salt. Mix well and allow it to boil well. When the water is rolling boil add pasta and cook till done it took around 12 minutes for me to get it cooked.

When it looks cooked drain the water and run the cooked pasta in regular water and keep it aside.

Now heat oil in a pan add chopped onion saute well and add ginger garlic paste. Saute well till the raw smell goes. Now add chopped tomatoes, red chilli powder, salt and garam masala powder. Mix well and allow the tomatoes to get cooked.

When the tomatoes look cooked and mushy add chopped capsicum cubes and mix well.

Now add chopped chicken breast and saute well for a minute till gets well incorporated in the masala. Now add ½ cup water to it and mix well. Cook in medium flame till the chicken gets cooked and masala gets dry.

When the chicken looks cooked and when the masala looks dry add the cooked pasta. Toss it well until combined. Put off the flame and garnish it with chopped cilantro. Serve it hot !