Masala vada/ Paruppu vadai is one such easy, simple, flavorful and yummy vada made with channa dal and is usually served with tea/ coffee. Now that its raining in CA, I thought to prepare these delicious vada as it is my hubby's favorite vada. He is very big fan of masala vada and I usually make this just for him and I should say he will eat any number served if it is this particular vada. One thing I like about masala vada is it is easy to shape and make unlike the regular medhu vada, but the key to get perfect masala vada is to grind it little coarse. So lets get to the making!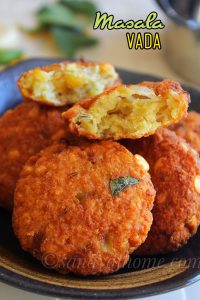 Ingredients
Channa dal – 1 cup
Rice flour – 1 tbsp
Garlic – 2 pods
Ginger – small chunk
Green chilli – 1
Fennel seeds/ saunf – ¼ tsp
Cumin seeds – ½ tsp
Onion – 1 (small)
Salt – to taste
Curry leaves – a spring
Oil – for deep frying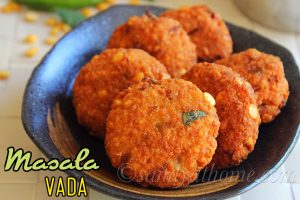 How to make Masala vada with step by step images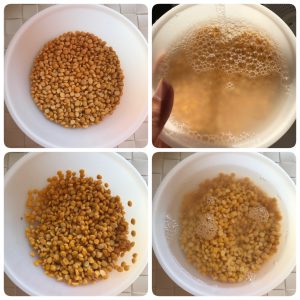 Wash and soak channa dal in water for 3 hours.

After 3 hours drain water from channa dal. In a blender add channa dal and grind it coarse without adding any water. Transfer it to a bowl.

Now in the same blender add green chilli, saunf, cumin seeds, ginger and garlic. Grind it without adding any water.

Now in a bowl add ground channa dal, ground masala, chopped onion, curry leaves, salt and rice flour. Mix well.

Heat oil in a pan. Now take small portion of the mixture, make it into round shape, then flatten it by pressing it slightly with palm. Repeat the process until the entire mixture is complete.

Now drop it in preheated oil one by one and cook in medium flame to get even browning and cooked inside.

When done transfer it to a plate with paper towel and serve.