Carrot kesari is a delicious sweet recipe prepared by combining carrot puree, sooji and sugar. This is a healthy kesari and will be loved by both kids and adults. I bought lot of baby carrots from farmers market last week and wished to do a recipe unlike regular ones. So immediately called my mom and she told about this kesari that she saw in a tv program. I was so excited and tried this carrot kesari the same day and it was a huge hit at home. Trust me no one will find out it is carrot kesari as there will be no hint of carrot while tasting the kesari. For the below recipe I haven't used any food color and the sugar quantity mentioned is according to my family. This recipe involves grinding of carrots. So lets quickly get to the making!
[sam id="1″ codes="true"]
Ingredients
Carrot puree – 1 cup
Sooji/ Rava – ½ cup
Sugar – ¼ cup
Cardamom powder – a pinch
Water – 1 cup
Ghee – 3 tbsp
Cashews – 6
[sam id="2″ codes="true"]
How to make carrot kesari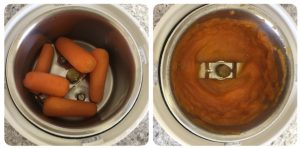 Steam or boil carrots and grind it into fine paste in blender.

Now heat a tsp ghee in a pan, fry cashews in it until golden brown. Remove it from the pan and keep it aside. Now in the same pan add rava/ kesari and roast it until aromatic. Transfer it to a plate and keep it aside.

Now add water in a pan, when it boils reduce the flame and add roasted sooji/ rava gradually and stir it continuously without forming lumps.

When the sooji/ rava is cooked add carrot puree and give it a good stir. When everything looks combined add sugar and cardamom powder. Mix well, add the remaining ghee and fried cashews. Put off the flame and serve it!