Bread gulab jamun is an easy and instant fried sweet recipe where balls made out of bread dough are fried in oil and then soaked in sugar syrup. I prepared this recipe for the very first time last year when we received our own house key as i wished to prepare something different and got hold of this recipe which I was skeptical of giving a try for a long time. They turned perfect and so today. Trust me no one will even get to know these jamuns are made with bread until you tell them. These jamuns are so delicious and easy to make as well. So lets get to the making!
For making jamun
White bread slices – 6
Milk – 1/2 cup
Oil for frying
For making syrup
Sugar – 1 ½ cup
Water – 1 ½ cup
Cardamom powder a pinch
Shredded almond – 1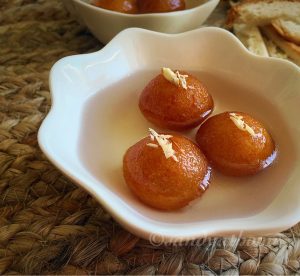 How to make bread gulab jamun with step by step images

In a pan add water, sugar and cardamom mix well and allow it to boil. When the syrup thickens put off the flame and keep it aside. (It took 12 minutes for me get thick syrup).

Chop the sides of the bread. Now make the white part of the bread into pieces. In a blender add bread pieces and grind it into crumbs.

Now transfer the powdered bread into a bowl. Add milk gradually to form a soft dough.

Heat oil in a pan. Grease hands with little oil. Now pinch a small portion a dough and make them into round shape using both palm and repeat the process till you finish the entire dough. Now drop the dough balls one by one and cook them in low flame.

Stir them gently often to get even coloring. When they turn golden brown drop them in sugar syrup. Allow the jamuns to soak in sugar syrup for 1 hour. When the jamuns have double in size garnish with shredded almond and serve it.