Idli seeralam is a spicy dish prepared by tossing cubed idli in tempered onion mixture. Idli seeralam can be prepared with fresh or left over idli. I was reminded of this recipe by my mom last week as she prepared it the day she called me. This recipe is again my grandma's recipe and is still a popular dish at our home. Idli seeralam is a quick fix when you are bored of regular chutney and sambar and if you wish to try something new. Idli seeralam requires no side accompany. So lets get to the making!
[sam id="1″ codes="true"]
Ingredients
Idli – 4
Onion – 1 ( roughy chopped)
Dried red chili – 4
Garlic – 1 pearl
Salt – to taste
To temper
Oil – 1 tbsp
Mustard seeds – ½ tsp
Urad dal – 1 tsp
Curry leaves a spring
[sam id="2″ codes="true"]
How to make idli seeralam with step by step images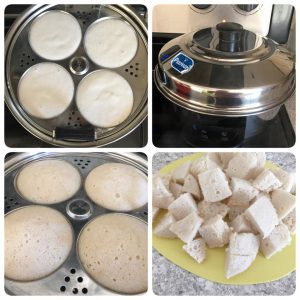 Heat water in steamer. Grease idli plates, pour idli batter in each mold and steam it for 10 minutes. allow it to rest for 5 minutes then demold the idli. Cut idli into cubes.

In a blender add chopped onion, garlic, dried red chili and salt. Grind it into a fine paste without adding water.

Heat oil in a pan add mustard seeds, after it splutters add urad dal, after it turns golden brown add curry leaves and ground onion mixture and mix well. Cook it in medium flame with occasional stir. (It took 10 minutes for me to cook).

When the mixture becomes dry and oil separates in the sides add the chopped idli and toss well making sure the idli is coated well. Put off the flame and serve it hot!