Dibba rotti is an authentic dish hailing from Andhra Pradesh and is often served as breakfast. It is prepared by making batter using rice and urad dal and is best known for its golden crispy outer layer and fluffy inner. This recipe was given to me by my friend and I was delighted to do as I have never tried it before and I regret for the same. It is an yum yum recipe and it tasted so good with chutney and sambar. I made little alteration to the recipe but still worked well for me. So lets get to the recipe!
[sam id="1″ codes="true"]
Ingredients
Rice – 1 cup
Urad dal – ½ cup
Baking soda – ¼ cup
Onions – 1
Green chili – 2
Cumin seeds – 1/4 tsp
Oil – 1 tbsp
Salt to taste
Curry leaves a spring
[sam id="2″ codes="true"]
How to make dibba rotti with step by step images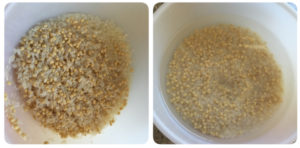 Wash and soak rice and urad dal in water for 4- 5 hrs. Grind them together into a thick batter adding salt. Now add ¼ tsp baking soda to it and let it ferment for 6 hrs or more.
Now add chopped onions, green chili, cumin seeds and curry leaves to the batter. Mix it well.
Heat oil in a wok / deep vessel and pour 2 -3 ladles of batter and cook it for 10- 15 minutes in medium flame with lid covered. When you see golden color around the edges flip it gently and cook for 5 minutes.
Serve it hot with chutney and sambar.