Kalkandu pongal is one such variety of sweet pongal made with rice, moong dal and kalkandu/ rock sugar candy as the name suggests. I had already posted the traditional sakkarai pongal recipe last year in the blog so wanted to post something different most impotantly without using jaggery so I chose to make pongal with rock sugar candy which tasted absolutely yum. This pongal requires very less ingredients and involves those basic ingredients used for making sweet. For this recipe I used electric rice cooker to cook rice mixture as both my pressure cookers were busy today. You can use pressure cooker for cooking rice and then continue to add milk and other ingredients in the same pressure cooker once the rice is cooked to perfection so that the pongal will be made in one pot. Try this kalkandu recipe this pongal instead of the traditional sakkarai pongal/chakkara pongali and make your pongal/ sankranti a special one!
WISHING EVERYONE A VERY HAPPY PONGAL!

[sam id="1″ codes="true"]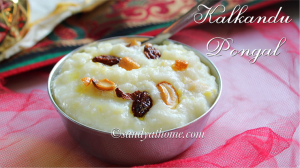 Kalkandu pongal recipe, Kalkandu Sadam, Sweet pongal
2018-01-11 23:35:02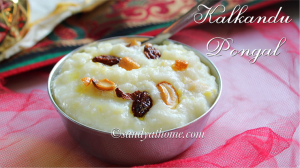 Serves 3
Ingredients
1. Raw Rice – ½ cup
2. Moong dal- 2 tbsp
3. Kalkandu/ Rock Sugar candy – ½ cup
4. Water – 1 ½ cup
5. Milk – 1 cup
6. Cardamom powder – ¼ tsp
7. Ghee – 2 tbsp
8. Cashews – 5
9. Raisins – 5
Instructions
Wash raw rice and moong dal. Add water and cook until done.( If using pressure cooker cook for 2 whistles. When the pressure has subsided open cooker and mash the rice mixture) when the rice looks cooked mash it well using a spoon. Mashing rice will be easy when rice mixture is hot.
Now add milk in a pan and allow it to boil. Now lower the flame and add the mashed rice mixture and rock candy or sugar candy/ kalkandu to the milk mixture. Mix it well until combined. When the milk mixture starts boiling add cardamom powder. Mix well. When the mixture starts to thicken put off the flame. Now heat a small tempering pan, to it add ghee, broken cashews and raisins. When cashews turns golden color and when raisins puff up like balloons put off the flame and add it to the pongal mixture. Mix well and serve it hot. Initially the pongal will be in flowing consistency after some time the consistency will get thicker.
Sandhya's recipes https://www.sandyathome.com/
How to make kalkandu pongal with step by step images

Wash raw rice and moong dal together. Add water and cook until done.( If using pressure cooker cook for 2 whistles. When the pressure has subsided open cooker and mash the rice mixture).

When the rice looks cooked mash it well using a spoon. Mashing rice will be easy when rice mixture is hot. Keep this mixture aside.

Now add milk in a pan and allow it to boil. Now lower the flame and add the mashed rice mixture and rock candy or sugar candy/ kalkandu to the milk mixture. Mix it well until combined.

Cook the mixture in medium flame. When the milk mixture starts boiling add cardamom powder. Mix well. when the pongal starts to thicken put off the flame and keep it aside.

Now heat a small tempering pan, to it add ghee, broken cashews and raisins. When cashews turns golden color and when raisins puff up like balloons put off the flame and add it to the pongal mixture. Mix well and serve it hot. (Initially the pongal will be in flowing consistency after some time the consistency will get thicker)

[sam id="2″ codes="true"]