Golgappa puri/ Puri for pani puri is a golden brown puffed crispy puri that acts as main ingredient for many chaat items like masala puri, dahi puri, pani puri/ puchka etc. This golgappa puri is a small sized puri made with sooji/ semolina is very easy prepare at home as it involves just handful ingredients in its making with simple process involving no special techniques or skills. I like to make my own golgappa puri mostly because it is so much exciting to see the puri puff up, and also is hygienic. A small amount of dough yields lot of puri's that can be stored as well for later use which is also advantageous. For the below recipe I used fine sooji/ farina, if you don't have it you can grind the regular sooji in a blender to give it fine texture before using it. So lets get to the making!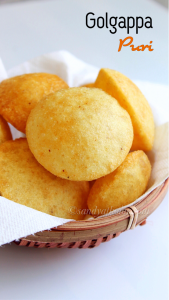 You can check out my chutney recipes used for chaat recipes below:
[sam id="1″ codes="true"]
Ingredients
Fine sooji – ½ cup
Maida – 1½ tbsp
Baking soda – ¼ tsp
Salt – ¼ tsp
Sugar – a pinch
Water – ¼ cup – 2 tsp
Oil – for frying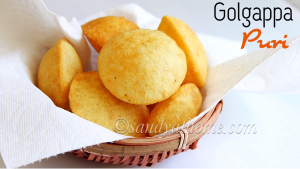 Note

* 1 cup = 160 ml


[sam id="2″ codes="true"]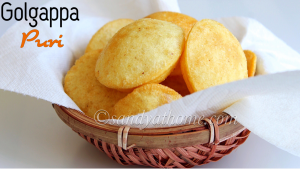 How to make Golgappa puri with step by step images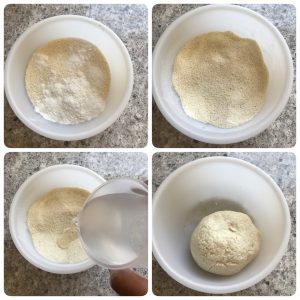 In a wide bowl add fine sooji, maida, sugar, salt and baking powder. Mix well. Now add water gradually to form a soft dough. When done is ready cover it and keep it aside for 30 minutes.

After 30 minutes the dough would have tighten a little which is common so knead the dough once. Heat oil in a frying pan. Now place the dough on rolling surface and roll it into a big circle not thin nor thick. A state in between both thin and thick. Now using a small cap/ round cutter make roundels of the flattened dough. Remove the excess dough and keep the roundels aside.

Now slide the flattened roundels one by one in preheated oil and fry them in medium heat. (Make sure the oil is hot enough by putting a small piece of dough, if it comes up right away then oil is at good temperature) As soon as you slide them in oil they will puff up, if they don't gently press in oil with slotted spoon for it to puff up. When one side looks golden flip gently to fry other side as well. when done remove the puri using a slotted spoon and transfer it to a plate with paper towel. Repeat the process till all the puri is over. Now the fried puri is ready to be used in various chaat recipes. Store the unused puri in air tight container and they will remain good for a week.