Ambur chicken biryani is one such delicious and lip smacking biryani that has its own distinct flavors and cooking method where taste is overloaded due to slight variation in the ingredient list which makes it stand out among other biryani. Ambur biryani came to my notice only after I got married as I am from a brahmin family. Since my hubby's hometown is near ambur I got chance to taste this yummy biryani which was tough to adapt in the initial stage but later relished it. I have heard him say about its specialty a lot of time and I tried making only once which I completely forgot about too. I got this recipe from a dearing friend of mine shruthi who posted this lovely biryani pic of her version in fb and was so tempted to make it the same day. It turned out well but only error I found in my making was soaking seeraga samba rice was a bad idea as the rice lost its texture a little bit, which I corrected in my green egg biryani, otherwise everything is very easy to make and has a restaurant touch to this recipe. The important reason behind its taste is the use of seeraga samba rice (short grain rice) which has its own flavors and creates magic in the dish, also the non usage of green chilli and chilli powder in the recipe which is replaced with red chilli paste for which I have added recipe and the making too. Its immense spiciness and flavors takes this biryani to a new level I should say. For the below recipe I used chicken breast which can be replaced with any chicken piece pf your choice, also you can alter the level of spiciness accordingly. So lets get to the making!
Ingredients
Seeraga samba rice – 1 ½ cup
Chicken breast – 6 pieces
Onion – 1
Tomato – 2
Mint – ½ cup
Cilantro – ½ cup
Ginger garlic paste – 1 tsp
Curd – ¼ cup
Turmeric powder – ¼ tsp
Garam masala powder – ½ tsp
Salt – to taste
Oil – 1 tbsp
Whole spices
Bay leaf – 1
Star anise – 1
Clove – 2
Cinnamon stick – ½
Cardamom – 1
Fennel seeds – ¼ tsp
Cumin seeds – ¼ tsp
Ingredients To grind
Dried red chilli – 10 to15
Note

* 1 cup = 160 ml

How to make ambur star chicken biryani with step by step images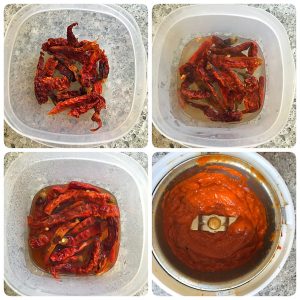 In a bowl add dried red chilli, to it add warm enough to immerse the chilli. Allow it to soak for 20 minutes.
After 20 minutes in a blender add the red chilli and grind it into fine paste and keep it aside.

Slice onions thin, chop mint, cilantro and tomato finely. Wash, clean and chop chicken breast into big chunks.

Wash rice and keep it aside. (seeraga samba in the above pic)

Heat water in a pot add salt. When the water is rolling boil add the washed serraga samba rice and allow it to cook till half done.

Meanwhile heat oil in a heavy bottomed vessel,add the whole spices when aromatic add the sliced onions and saute well in medium flame. When the onions look sauteed add ginger garlic paste and saute till the raw smell goes.

Now add chopped mint and cilantro. Saute well till they shrink in size.

Now add the chopped tomatoes, salt, turmeric powder, garam masala powder and ground red chilli paste to it and mix well. Allow the tomatoes to get cooked and let the raw smell of red chilli paste fade.

When tomatoes look cooked add chopped chicken and curd. Mix well and cook the chicken in medium flame till ¾ th done (Since I used chicken breast it got cooed so fast, if you use any other chicken piece the wait time will change)

When the chicken ¾ th done with thick gravy add the half done rice without any water. Mix well and cover it with a lid. Place the heavy bottom vessel on a tawa and cook on high flame for 5 minutes and another 15 minutes in low flame.

When done take rice gently from the sides using spatula and serve it hot with raita or brinjal curry!