Idli / Dosa needs no introduction as it is something that we make everyday. Idli/ dosa might sound as a very usual food item but achieving perfect fluffy, crispy or spongy dosa lies in preparing and fermenting perfect batter. Making idli dosa batter is very easy and it is a very handy one on any morning. Idli/ dosa batter are usually once made can be stored for a week to 10 days in refrigrator which is a good news that most you know. Some people grind dosa batter and idli batter separately but I have never seen my mom prepare it different she has always used same batter for the idli dosa and the result was perfect idli and dosa. So I grind one batter for both and transfer little fermented batter to another bowl add little water to get flowing consistency batter when I want to make dosa.
Ok so why did I think of sharing this batter recipe all of a sudden after a sweet recipe? If you are regular reader of my blog you would have guessed right! Yes it is! Yes we will be taking a look at few different varieties of dosa in upcoming weeks, so that's one reason, secondly this recipe is most searched one on my blog and I must say for the past 2 months have been getting requests for this recipe and yes it is finally here! So lets get to the making!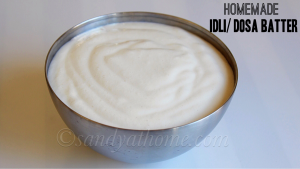 [sam id="1″ codes="true"]
Ingredients
Idli rice- 4 cups
Urad dal – 1 cup
Poha/ Aval – 2 tbsp
Water – for grinding
Salt – as needed
Note

* 1 cup = 160 ml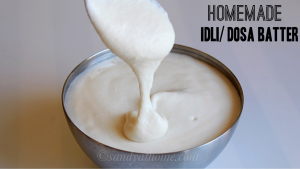 [sam id="2″ codes="true"]
How to make idli / dosa batter with step by step images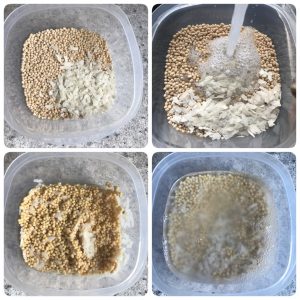 In a bowl add urad dal and aval/ poha. Wash well and soak it in water for 5 to 6 hours.

Now in another bowl add rice, wash 3 to 4 times until you see clear water. Soak it in enough water for 5 to 6 hours. (measure both rice and urad dal in same measurement cup)

After 6 hours, in a wet grinder add little quantity of the soaked urad dal.. Switch on the grinder, when it starts grinding gradually add little by little of all the soaked urad dal. Grind the mixture into a smooth, thick and fluffy batter adding water in regular intervals when needed. I used around 1 cup of water for grinding but it may vary according the soaking time. But the measurement is just a guideline to get a perfect batter.

Also scrap the inner sides of the grinder often to get rid of coarse mixture using the scrapper provided along with grinder. When done grinding transfer the mixture to a bowl and keep it aside.

Now in the same grinder vessel (after removing urad dal batter) add little water say around ¼ cup first then add little rice. Switch on the grinder and then add rice gradually when its grinding. Grin it into smooth flowing batter adding water in regular intervals. Add water gradually so that you don't loose the consistency.

When the rice batter looks done with flowing smooth consistency add the urad dal batter to it gradually when the grinder is still grinding. Allow the batter to mix well for 3 to 5 minutes.
Now transfer the batter to a bowl, add salt and allow it to ferment for 8 to 10 hours. (If you are in cold country leave the batter in microwave undisturbed or keep it in the oven with just the light on so that it creates warm atmosphere fir the batter to ferment. Also suggested time is soak rice and urad dal in the morning, grind it in the evening and let it ferment overnight) When the batter has fermented it can be used to make dosa and idli!