Idli made with idli rava yields soft, fluffy and spongy idlis in the most simplest and hassle free procedure making it easy for beginners as well. The batter for this idli can be made in both mixie/ grinder yielding in same result but the one ground in mixie is very easy to prepare and also takes very less time to prepare. This batter takes only 15 minutes for me to grind in mixie which is a real bliss. I must thank my loving friend KAUSHI who actually reminded me of this recipe which I forgot for years as it always led to some mistakes for me when I was a beginner in cooking. So now after years I perfected my recipe which now yields very soft and fluffy idli in most simplest method without much struggle. The below recipe does not contain any baking soda. So lets get to the making!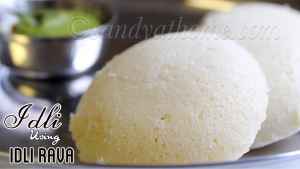 Beginner note:
Always make sure to wash both dal and idli rava 4 to 5 times till you notice clear water, also measure everything with same cup or tumbler. Grind the batter not thin nor thick which is most important for fermentation, so add water little by little while grinding the batter. I added water only while grinding urad dal. If you stay in a cold country like mine keep the batter in oven just with light switch on for warming it up. And this batter can be used for making dosa too.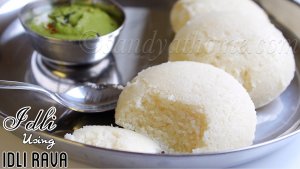 [sam id="1″ codes="true"]
Ingredients
Urad dal – ½ cup
Idli rava – 1 ½ cup
Poha/ Aval – 2 tbsp (thick variety)
Salt – to taste
Water – 1 cup ( approx. for grinding I used)
Oil – 1tsp (for greasing idli plate)
Note

* 1 cup = 160 ml


[sam id="2″ codes="true"]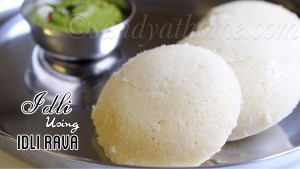 How to make soft idli with idli rava with step by step images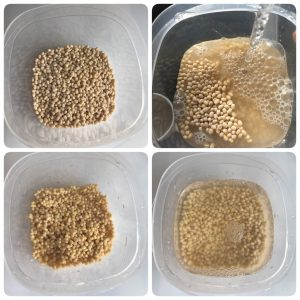 Wash urad dal twice or thrice until you see clear water. Soak urad dal in water for 4 to 5 hours.

Wash idli rava 4 to 5 times until you see clear water. Washing idli rava properly is very important in order to obtain white idli. Soak idli rava in enough water for 4 to 5 hours.

Wash and soak poha/ aval in water for 20 minutes. Soaking just before grinding will be fine.

After 4 to 5 hours of soaking, take a blender add urad and poha without any water. Grind it into fine batter using water little by little. I used around ¾ to 1 cup water for grinding urad dal batter.( The same cup which i used for measuring urad dal and idli rava) The batter needs to be smooth and fluffy. It should not be watery.

Now to the urad dal batter add all the soaked idli rava draining the water. Grind it until everything is combined into a fine batter with flowing consistency.
When everything looks combined add salt and grind it once to incorporate it into the batter.

When done transfer the batter to a bowl and allow it to ferment for 8 to 10 hours or overnight. (I usually batter grind it in the evening and let it ferment overnight)

In the morning or after 8 to 10 hours of fermenting give a good stir to the batter before making the idli.

Heat water in idli pot. Grease idli plates with few drops of oil. Pour ladle of batter in each idli mold.

Place the batter filled idli plates in the idli steamer and steam it for 12 minutes. When done remove the idli plate from the steamer and keep it aside for 5 minutes.

After 5 minutes wet a spoon with little water (wetting the spoon with water helps to scoop idli easily ) and scoop the the idli from from the idli plate and serve it hot with chutney of your choice!