Cashew pakoda/ Munthiri pakoda is a crunchy and yummy fried snack made with besan flour, rice flour and cashews. Now that its winter everyone would love to have something hot and especially if its going to be pakodas and bajji with a cup of coffee / tea it is a real bliss. Cashew pakoda tastes more yummy than the regular pakodas that we usually make at home and is very easy to make as it does not involve much procedures in its preparation. The only trick to get perfect and crunchy pakoda is make the right batter, otherwise it can be easily prepared by beginner as well. So lets get to the making!
[sam id="1″ codes="true"]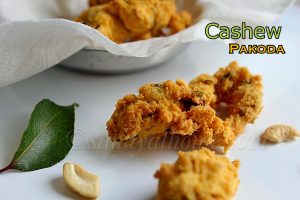 Ingredients
Cashews – 10
Besan flour – 1 cup
Rice flour – ½ cup
Green chilli – 1
Cumin seeds -1/4 tsp
Chopped cilantro – 1 tbsp
Chopped curry leaves – ½ tbsp
Cumin powder – ¼ tsp
Salt – to taste
Hot oil – 1 tbsp
Oil – for frying
Water – required amount
[sam id="2″ codes="true"]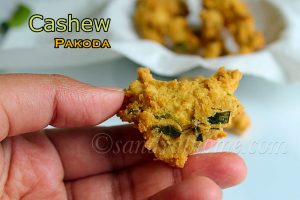 How to make cashew pakoda with step by step images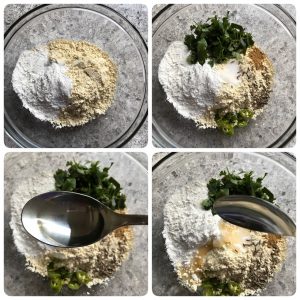 In a bowl add besan flour, rice flour, cumin seeds, chopped green chilli, cilantro, curry leaves, cumin powder, salt and hot oil.

Mix everything well.

Now add water gradually to form the cashew pakoda batter. The batter should be crumbly. (I used less than 1/3 cup water to make crumbly batter).

Heat oil in a pan. Now add cashews to the batter. Mix well. (The batter will be little sticky which is common)

Now spread the crumbly batter in oil. Does not require any particular shape. Fry them in medium flame until crispy and light golden color.

When done put off the flame and transfer it to a plate with paper towel to drain excess oil. Serve it hot and you can store the remaining for a day.