Kurkuri bhindi/ okra fry/ crispy okra is a very yummy fried snack prepared by frying thinly sliced flour and spices coated okra/ bhindi in oil. This yummy recipe takes very less time to prepare and also has only few basic ingredients in its making. For the below recipe you can adjust the amount of spiciness according to your taste. So lets get to the making!
Below is the kurkuri bhindi making video along with detailed step by step images to make it easy for beginners.
Kurkuri Bhindi making video
[sam id="1″ codes="true"]
Ingredients
Bhindi/ okra – 10
Rice flour – 1 tbsp
Besan flour – 1/3 cup
Red chilli powder -1/2 tsp
Coriander powder – ½ tsp
Cumin powder – ¼ tsp
Salt – to taste
Water – ½ tsp
Oil – for frying
[sam id="2″ codes="true"]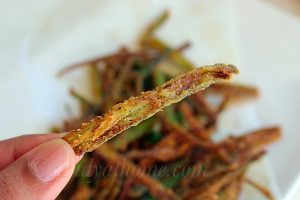 How to make kurkuri bhindi with step by step images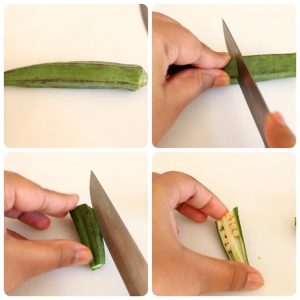 Cut the edges of the bhindi. Make it into halves and remove the seeds.

Slice them thin. Repeat until you finish the all the bhindi.

Heat oil in a pan. In a wide bowl, add thin slices of bhindi, water, rice flour, besan, red chilli powder, coriander powder and cumin powder. Mix well to coat the bhindi/ okra with flour and spices.

Spread the flour coated okra/ bhindi in preheated oil. Fry them until crispy. When done remove from oil and transfer it to a plate with paper towel and serve!