Fish kuzhambu is a spicy and tangy curry prepared by cooking fish in tamarind mixture. This fish kuzhambu requires grinding of onion, tomato, coconut and select spices which gives a vibrant color. This below method of preparation gives the kuzhambu chettinad touch and enhances the taste of this kuzhambu. For this recipe I used sardine fish as I am a great fan of this fish when it comes to kuzhambu. So lets get to the making!
Ingredients
Sardines (Mathi) – 3
Onion – 1
Tomato – 2
Grated coconut – ¼ cup
Garlic – 3 pearls
Tamarind – small gooseberry size
Cumin seeds – ¼ tsp
Mustard seeds – ½ tsp
Fenugreek seeds – ¼ tsp
Red chili powder – 1 tbsp
Coriander powder – ½ tsp
Turmeric powder – ¼ tsp
Salt – to taste
Sesame oil – 2 tbsp
Curry leaves a spring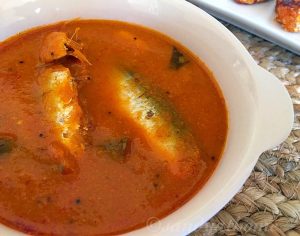 How to make fish kuzhambu with step by step images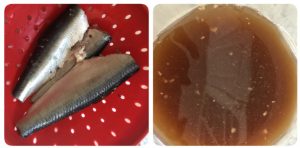 Soak tamarind in water and extract thick tamarind juice from it. Clean fish well. Chop onion and tomato roughly.

Heat oil in a pan, add chopped onion and saute for a minute then add chopped tomato and cook until it gets soft. Now add grated coconut in it. Mix well and put off the flame and allow the mixture to cool down.

Now transfer the onion tomato mixture to a blender, add chili powder, coriander powder, turmeric powder and salt. Grind it into fine paste without adding water and keep it aside.

Heat sesame oil in a kadai, add mustard seeds after it splutters add cumin seeds after it crackles add fenugreek seeds, curry leaves and garlic pearls. Saute garlic well until aromatic. Now add the ground paste in it and mix well. Allow it to cook for a minute.

Now add tamarind extract in it and mix well. When the mixture boils well and raw flavor of the tamarind extract has gone, add the fish pieces and allow it cook. Do not stir the mixture as the fish could break(It took 5 minutes for the fish to get cooked). Once the fish is cooked put off the flame and serve it hot with rice and fish fry!