Mysore pak is a delicious sweet recipe prepared with besan and ghee and they are known to melt in mouth. It can be prepared in both stove and microwave . The below recipe is an instant one which can be prepared in just 5 minutes and surprise your audience. I usually opt this method if I have sudden guest coming home and I thought to share it in my blog as few of my friends requested for quick sweets. So let's get to the making!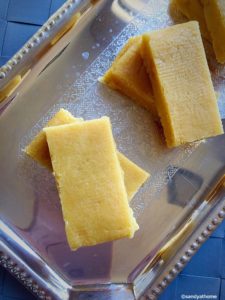 [sam id="1″ codes="true"]
Ingredients
Besan – 1 cup
Powdered Sugar – 1 ½ cup
Ghee – 1 cup
Milk – 4 tsp
[sam id="2″ codes="true"]
How to make instant mysore pak with step by step images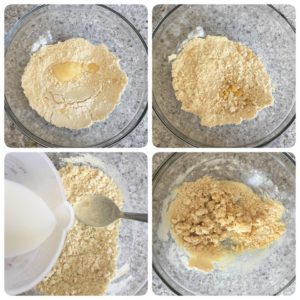 In a microwave safe bowl add besan and 2 tbsp ghee and mix well. Microwave it for 1 minute. When you take it you will smell roasted besan aroma. Now add milk to it and mix well. then add the remaining ghee in it and mix well.

Now add remaining ghee and powdered sugar. Mix well.
Now microwave it for 1 minute. This time you will see the mixture have paste consistency with ghee floating on the top.
Now mix it well and microwave again for 1 minute.

Now for the last time microwave the mixture for 30 seconds. This time you will find the mixture frothy and bubbling. Grease a tray with ghee and transfer the mixture in it and shape it uniformly.

Allow the mixture to cool for about 20 – 30 minutes. Then run a knife through it and cut it to desired shapes and serve!