Wheat flour halwa is a sweet recipe made with wheat flour as the name suggests and can be prepared in 10 minutes. This recipe has only 4 ingredients in its making and is the most easiest and quickest halwa that I love to make for my family and the credit goes to my mother in law as i got to know about this recipe from her. The best part is this halwa has no hard and fast rules like other halwa recipes so it is very easy for even beginners to make. So lets get to the making!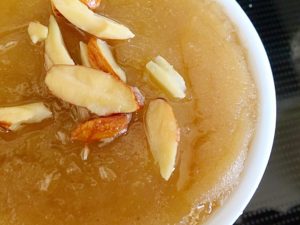 [sam id="1″ codes="true"]
Ingredients
Wheat flour – 1
Sugar – 1
Water – 1
Ghee – ½ cup
Silvered almond few
[sam id="2″ codes="true"]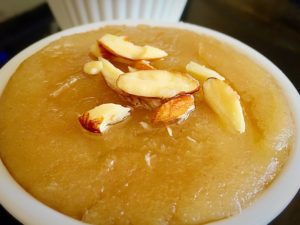 How to make Wheat flour halwa with step by step images

Heat ghee in a pan and add wheat flour in it. Roast wheat flour in ghee in low flame till the raw flavor goes. This should take about a minute or so.

Then add sugar go it and mix well. Now add hot water to it and stir continuously so that it does not form lumps and it will form into halwa and will the leave the pan. Add ghee to it and garnish it with silvered almonds and serve it hot.



Notes

Roasting wheat flour in low flame enhances the taste of halwa making sure not burn which will alter the taste of halwa.
While roasting wheat flour lumps might appear which will dissolve after adding sugar.
Stir constantly while adding water as it might form lumps.
Garnishing almonds roasted in ghee adds more taste to the halwa.