Tandoori chicken drumstick is a hassle free recipe which involves baking of chicken in the oven and is the most tastier way to prepare chicken drumstick according to me as its flavors are distinct from the regular cooking. I usually like to prepare it as side accompany while making biryani as it makes the meal complete. In this method even coloring can be achieved as it is baked and for this recipe I have not used any food color. So lets get to the baking!
Ingredients
Chicken drumstick – 4
Ginger garlic paste – 1 tsp
Chili powder – 1 ½ tsp
Garam masala powder – 1 tsp
Coriander powder – 1 tsp
Turmeric powder – ¼ tsp
Curd – 4 tbsp
Salt as needed
Oil
How to make Tandoori chicken drumstick with step by step images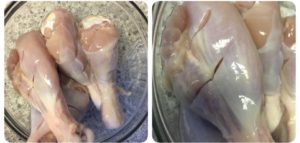 Wash and clean chicken drumstick well. Now make slits in the chicken.
Now in a bowl add chicken drumstick, ginger garlic paste, curd and all dry powders mentioned along with salt. Mix everything well and marinate chicken for 2 hrs ( you can refrigerate overnight and bake it next day too).
Preheat oven at 400 degree. Now line a baking tray with aluminum foil and arrange the marinated chicken. Add 2 tsp oil over every chicken drumstick. Now bake the chicken for 35 – 40 minutes.
After 35 to 40 minutes insert a toothpick to see if it is cooked soft and tender. Serve it as main or side course with biryani.