Puttu is a delicious breakfast recipe orginating from kerala. It always reminds me of my good old school days when my father used to get this for our breakfast every Thursdays when we first moved to abudhabi. The very first bite i had this with kadala curry i fell in love with it. So i make this atleast twice a month now and my hubby too loves it. I usually prefer making puttu with chemba puttu flour but this time for a change i thought of making puttu with both chemba and white puttu podi. So lets get started!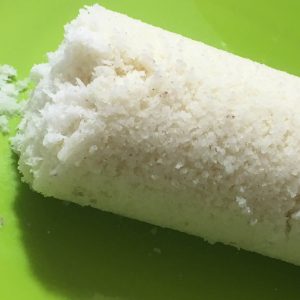 Ingredients
Puttu powder – 2 cups
Salt
Water – 1 cup
Grated coconut as required
[sam id="2″ codes="true"]
How to make puttu with step by step images
In a bowl add puttu flour and salt. Now add water little by little and start mixing it with your hand to get right consistency. When you are able to hold shapes with the flour it is ready to be cooked. The flour needs to be moist without any lumps and it should look like bread crumbs. The right amount of water makes perfect puttu.
The puttu mold has 2 parts ; disc with holes and a small lid. Place the disc inside the puttu mold then start the preparation.
Start by adding a layer of grated coconut, then add 2 fistful of puttu flour. Now again add a layer of grated coconut and add 2 fistful of puttu flour and finish it with a layer of grated coconut. When you have reached the top of the puttu maker by making layers close it with the lid.
Attach the puttu mold to the bottom vessel of puttu maker in which the water has been boiling and steam it for 10 mins. Puttu will be ready when u see steam escaping through the holes of the puttu mould lid. Now remove the puttu mold from the bottom vessel of puttu maker and gently push the puttu with a spoon or ladle.
Serve it hot with kadala curry or sugar!