Pav bun an indian bread best known for its soft and spongy texture used to accompany bhaji masala or in vada pav can never be forgotten. I am happy share my recipe as I baked it right just before my pregnancy. I stopped baking since I became pregnant and even now I continued after a long break I am glad I got the best results.
[sam id="1″ codes="true"]
Ingredients
All purpose flour – 3 cups
Yeast – 4 grms
Sugar – 1/4th to 1/2 tsp
Butter – 4 tbsp
Water – 1 cup
Milk – 1/4th cup (For milk wash)
[sam id="2″ codes="true"]
How to make Pav bun with step by step images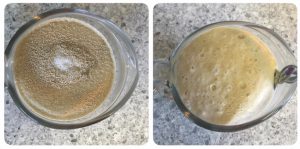 Take warm water in a cup and dissolve yeast in it along with sugar . Keep it aside for 5-10 mins until it turns frothy.
Add flour ,salt and the frothy yeast mixture in a bowl and knead it into a sticky dough.
Add melted butter to the sticky dough and knead it well. After u have added the butter into the dough it should become non sticky. Now cover the dough and set it aside for 1 hour.
After an hour the dough would have doubled in size. Now apply some butter and dust the baking tray with the flour; then divide the dough equally and roll them gently into round shape and place one by one in the tray. Now cover the tray with muslin cloth of plastic sheet and set aside for 1 hour.
After an hour the dough balls would risen and again doubled its size. Preheat the oven to 400 degree. Now dip a basting brush into milk and apply gently it on the buns to achieve even browning and shinning on the bread when baked. The process is called milk wash. Now slide the tray into the Oven and bake them for 30 mins until golden brown.
When the buns are baked make a slit take a pan add butter in it and toss the the bread on both sides.
Serve it hot with bhaji masala!