Chow chow bath as the name sounds different is comprised of a different combo of 3 dishes put together in a same plate. Yes chow chow bath is a typical or "to go breakfast" served in Bangalore, the menu consists of khara bath also known as rava upma, kesari bath known as rava kesari or sheera and typical coconut chutney. Yes you heard it right! I was surprised too after knowing it until I had it made by my aunt and was just amazed by its tatse. All the 3 dishes are super easy to make and can kick start your morning with happy tummy. I posted the recipes of both khara bath and kesari bath long time ago in that same day I clicked chow chow bath pic too but somehow it just slipped from my mind to post it. When I got few requests to post breakfast/ dinner menu I thought why not start the menu with special and different variety, so thought to post this one first. I don't make much items for breakfast like too many items on plate just for photography but anything healthy, simple and quick ones always tops my list. But sometimes occasionally I make variety in breakfast and mostly on weekends so I will try to share what I do regularly hope you guys like it and hope I will fulfill your requests! So lets get to the recipe link quickly!
[sam id="1″ codes="true"]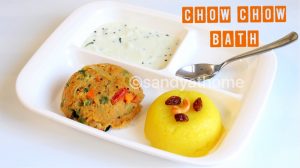 Just a small gist of how I did the menu that day is what I tried to explain below, hope to make it better in upcoming recipes. Chop all the vegetables first. Dry roast rava for both khara bath and kesari bath. While I was sautéing vegetables I started making chutney. When chutney and khara bath was done I started with kesari as it tastes best when its hot. So this is how I did my work and took 1 hour. You can plan yours according to your convenience. Hope you liked the recipe!
[sam id="2″ codes="true"]