Mushroom pizza is a delicious and cheesy pizza topped with lot of mushrooms, onions and colorful capsicum is a sure bliss for mushroom lovers like me. A super easy and quick to make pizza that can be made from scratch gives so much happiness, due to the desired output that tastes so delish than the store bought ones most importantly with toppings of your choice, crust as per your choice and also its size can be so much exciting. Mushroom pizza does not require anything special in its making except for addition of lot of mushrooms which is added in little extra quantity compared to other veggies thrown in. For the below recipe i skipped tomato and used 4 color capsicum which can be altered accordingly. As I have explained much about pizza in my previous posts I shall skip all those boring writings, so let's quickly get to the making!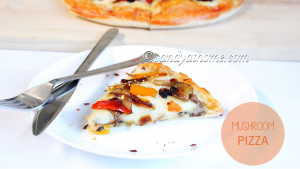 You can find the pizza dough recipe below:
[sam id="1″ codes="true"]
| PREP TIME | COOK TIME | TOTAL TIME | SERVES |
| --- | --- | --- | --- |
| 1 hr 30min | 20 min | 1 hr 50 min | 3 |
Ingredients
Homemade Pizza dough ( makes 2 medium sized pizza)
Tomato sauce/ Pizza sauce – ¾ cup
Shredded mozzarella cheese – 2 cups
Mushroom – 8 to 10
Chopped capsicum – ½ cup
Onion – ½ cup
Red chili flake – as needed (for garnish)
Oregano – as needed (for garnish)
Oil – 1 tsp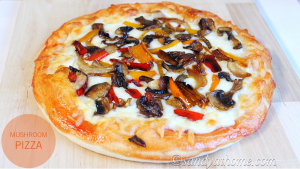 Note

* My 1 cup = 160 ml


[sam id="2″ codes="true"]
How to make mushroom pizza with step by step images

Chop all the veggies and keep it ready. Now heat oil in a pan add all the veggies and saute for a minute. When the veggies look slightly sauteed put off the flame and keep it aside.

Preheat oven at 350F/ 180 C. Now divide the dough into 2 equal portions. Take one portion of dough and flatten it little thick. Now prick it with a fork to make holes. This helps the pizza from puffing up.

Now transfer the rolled pizza dough on to baking tray. Now add sauce and spread it, then add mozzarella cheese as first layer and top it with veggies of your choice just in the center so that you get to see a visible fluffy crust.

Now place the baking tary in oven and bake it for 15 minutes. (I baked one pizza only at a time which took 15 minutes if placing 2 pizza together time may vary also depending on the oven) When done remove it from oven and sprinkle chili flakes and oregano before serving!