Homemade Pizza Dough is one such easy to make recipe that aids in making a wide variety of pizza with amteen number of different topping of our choice. Homemade pizza dough yields in much better quality pizza base than the store bought ones and makes perfect pizza similar to pizza shops. Yes in my experience the store bought pizza base have never worked for me as it turns hard, too crispy, brittle or soggy at times hence I started preparing my own pizza dough since then. I am not going to lie that I got it right the first time, of course just like anyone may trials and errors and finally have perfected my pizza dough recipe with accurate measurements that work best for me. The below mentioned pizza dough has been yielding in perfect pizza for the past 4 years and since i am super happy with the result shared few pizza recipes in my blog earlier which was liked by you guys, I am super happy about that too but I received few mails regarding posting a separated recipe for pizza dough and I kept that recipe on hold for a while for no reason and now it is finally here. So do not worry give your best shot in making a soft non sticky dough which will create all the magic and result in perfect store style pizza. So lets get to the making!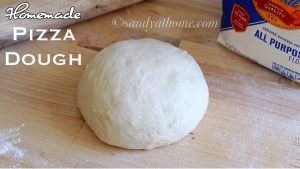 You can check out my pizza recipes below:
| PREP TIME | COOK TIME | TOTAL TIME | SERVES |
| --- | --- | --- | --- |
| 1 hr 20 min | — | 1 hr 20 min | 3 |
Ingredients
All purpose flour – 1 cup
Warm water – ½ cup
Yeast – 1 tsp
Sugar – ½ tsp
Salt – ¼ tsp
Oil – 1 tbsp
Note

* 1 cup = 235 ml

How to make pizza dough with step by step images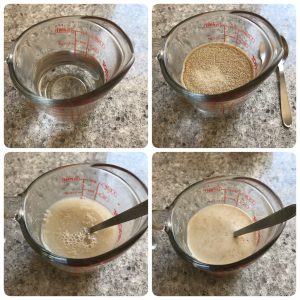 Take ½ cup warm water in a cup, add yeast and sugar. Mix well and keep it aside undisturbed for 10 minutes until frothy. Always make sure to take luke warm water, a temperature that shouldn't hurt when put your finger in water. This step is very important because only warm warm water can activate yeast which is again very important to help the dough rise.

Now in a bowl add all purpose flour, salt, oil and frothy yeast mixture. Mix everything well and knead it into soft dough. Kneading a soft dough is very important in yielding soft pizza base. Cover the dough and keep it aside for an hour. (This rest time will help dough to double in size and will create aeration). Do not skip the resting time.

After an hour you will notice the dough doubled in size as shown in first picture of the collage. Now pizza dough is ready to make pizza!