Pudina sev/ Mint sev is a delicious, flavorful and green colored healthy snack prepared by adding freshly ground mint juice to besan mixture, which is made into dough, pressed and deep fried as sev. Sounds super easy right, same goes with the taste a crunchy sev with flavors of mint in every bite feels so refreshing when served as evening snack along with a cup of hot tea/ coffee and can also be used as garnish for many chaat items to add new flavors and taste to the chaat dish. Pudina sev requires almost the very same ingredients like regular sev but with slight changes as the name goes.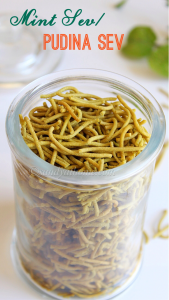 I usually feel sev is a beginner friendly recipe as it does not take much time to prepare nor has any special technique or things to be concentrated for it perfect outcome, of course the dough matters but that's the only thing i think. I am actually really happy to share this recipe because this mint sev was prepared with homegrown mint, and I should thank mother nature for enabling us to harvest it, so my first harvest for the season began with this recipe. So lets get to the making!
[sam id="1″ codes="true"]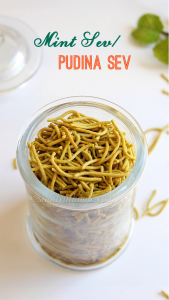 Ingredients
Besan – 1 ¼ cup
Rice flour – ¼ cup
Turmeric powder – a pinch
Salt – to taste
Ghee/ Melted butter – 1 tsp
Oil – for frying
Ingredients For grinding
Mint – 1 cup (only leaves)
Green chilli – 1
Cumin seeds/ Jeera – ¼ tsp
Water – ½ to ¾ cup
Note

* 1 cup = 160 ml


[sam id="2″ codes="true"]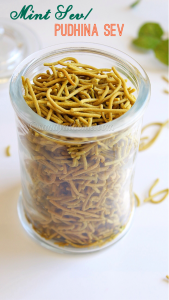 How to make pudina sev with step by step images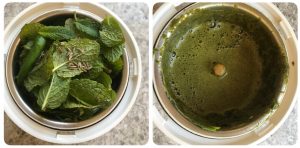 In a blender add mint, green chilli and cumin seeds. Grind it adding little water. Keep the ground paste aside. To this paste add ½ to ¾ cup water and keep it aside.

In a bowl add besan, rice flour, turmeric powder, salt and ghee/ melted butter. Now place a strainer over this flour mixture and pour the mint paste through the strainer as we need only the mint flavored water and not the paste. Add the mint water gradually as we don't want the dough to be be watery.

Now mix everything well and knead it into soft dough. The mixture will be a sticky one initially which we get batter as you start kneading it. The dough can be used immediately to make sev.

Heat oil in a frying pan. Now in a murukku maker place the above shown disc template. Before making sev make sure the oil is hot enough by putting a tin piece of dough in oil, if it rises up immediately the hot is ready.

Now pinch a small portion of dough and place it in the murukku maker. Before trying to make sev in oil check if the dough is able to make through the holes. Now press the dough in circular motion making only one layer. Too many layers will yield uncooked sev. As soon as the dough us pressed in oil you will notice huge amount of heat and the oil will start bubbling.

Fry the sev in medium flame. When one side is done flip the sev gently to another side and cook till bubbles cease. Remove the cooked sev from oil and transfer it to a plate with paper towel. Do not fry the sev after the bubbles have ceased as it will brown the sev and it will yield in bitter taste. Repeat the process till all the dough is complete. Store the sev in air tight container and they should stay good for 7 days. Serve the sev with hot cup of tea/ chai!