Barnyard millet also known as kuthiraivali arisi (tamil)/ odalu (telugu) is a millet variety that is small in size, white in color, round in shape bigger than semolina/ sooji. Barnyard millet is rich in fiber, iron and is also less in calories making it healthier than rice. Barnyard millet with a taste similar broken rice can be used to prepare variety of dishes like idli, dosa, pulao, upma, kheer etc.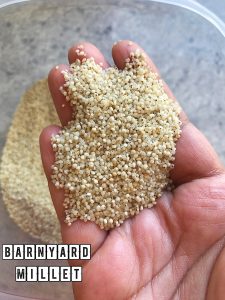 So now that we know the goodness about barnyard millet lets get to know about the idli. Barnyard millet idli are super soft, spongy and fluffy idli which tastes like regular idli but with upgraded health benefits. Barnyard idli requires the grinding of a batter using barnyard millet, urad dal and poha, which is used for making idli after fermentation. The batter is super easy to prepare as everything is soaked and ground together making the process simple. So if you are someone who like idli to be your everyday breakfast this recipe could make your everyday breakfast more healthy.So lets get to the making!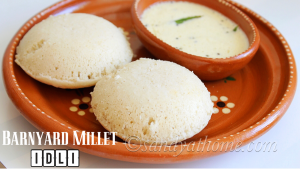 [sam id="1″ codes="true"]
Ingredients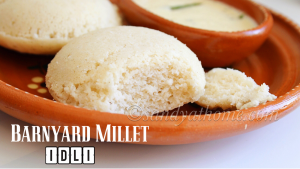 Note

* 1 cup = 160 ml


[sam id="2″ codes="true"]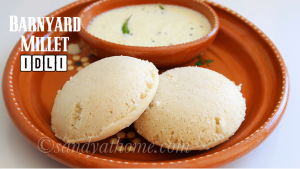 How to make Barnyard millet idli with step by step images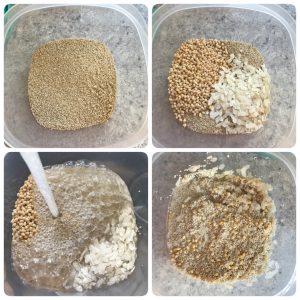 In a bowl add urad dal, barnyard millet and poha together. Wash 3 to 4 times until you see clear water. Soak it in enough water for 5 to 6 hours.

After 6 hours, in a wet grinder add little quantity of the soaked urad dal, quinoa and poha. Switch on the grinder, when it starts grinding gradually add little by little of all the soaked items. Grind the mixture into a smooth, thick and fluffy batter with adding water in regular intervals when needed. I used 1 ½ cups of water for grinding but it may vary according the soaking time. But the measurement is just a guideline to get a perfect batter.

Also scrap the inner sides of the grinder often to get rid of coarse rice mixture using the scrapper provided along with grinder.

When done grinding transfer the mixture to a bowl, add required amount of salt and mix well. Allow the batter to ferment for 8 to 10 hours.

In the morning heat water in idli pot. Grease idli plates with few drops of oil. Pour a ladle of batter in each idli mold.

Place the batter filled idli plates in the idli steamer and steam it for 12 minutes. When done remove the idli plate from the steamer and keep it aside for 5 minutes.
After 5 minutes wet a spoon with little water (wetting the spoon with water helps in and scoop idli from the idli plate and serve it hot with chutney of your choice!