Appam/ Palappam/ Lacy soft hoppers is a soft and fluffy Indian pancake served as breakfast is prepared with fermented rice batter in appa kadai that is specially designed to make appam. Appam is usually made by grinding rice and coconut, but I thought to post a recipe breaking the traditional and much more easy method to help beginners. Yes this recipe involves no grinding of batter as you need to just mix everything well, ferment the batter and make appam. So this recipe is made with store-bought rice flour, coconut milk ( I used can) and yeast, which is a no fail recipe as it creates really fluffy and soft appam. Thought the recipe is made simple it all depends in creating a perfect batter that is smooth, light and flowing, which is the key to make perfect appam. I am a die hard fan of appam since childhood and any easiest method I could adopt to make it I wouldn't mind trying it. So if you are someone like me looking for easy and hassle free quick method to make your breakfast great then don't stop here get to the recipe! So lets get to the making!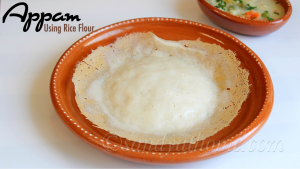 [sam id="1″ codes="true"]
Ingredients
Rice flour – 1 ¼ cup
Coconut Milk- 2 cups
Yeast- 1 tsp
Water- ¼ cup
Sugar- 1 tbsp + ½ tsp (for yeast)
Salt- a pinch
Oil- required amount to make appam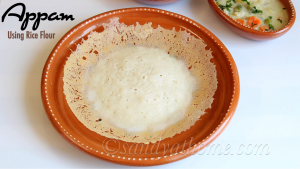 Note

* 1 cup = 160 ml


[sam id="2″ codes="true"]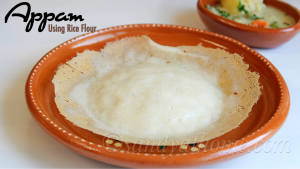 How to make appam with step by step images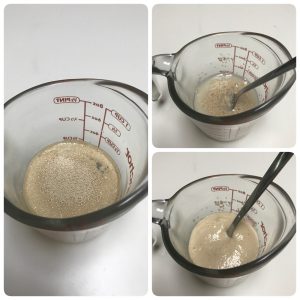 In ¼ cup of warm water add yeast and sugar. Mix well and keep it aside for 15 minutes or until it gets frothy.

So when the yeast mixture is ready we can proceed further. Now we need to combine just 4 ingredients to make appam. In a bowl add rice flour, coconut milk, sugar, pinch of salt and yeast mixture. Mix well.

Keep mixing and it will form a batter with flowing consistency. Now allow it ferment for 8 to 10 hours. In the morning you will notice the batter with nice fermented aroma with all the bubbles. Mix it really well.

Add little water to adjust the consistency, as we need the batter to in flowing consistency. So when the batter is ready heat a appam kadai. Pour a ladleful batter in the preheated appa kadai and spread the batter and twirl it to get a thin lace kind edges. Cover the appam pan with lid and cook for 4 to 5 minutes in medium flame. Do check it in between to prevent burning.
After 4 to 5 minutes when the edges have browned and when the center has risen/ looks fluffy slide it the plate. Repeat the process till all the appam batter is complete. Serve appam with white vegetable kurma/ stew of your choice!