Puff pastry sheets are thin, light and tender sheets that can be used to prepare a wide variety of dishes both sweet and savory. These pastry sheets turn super flaky with lot of layers into golden brown color when baked and also emits a very buttery aroma that anyone will fall for. These sheets when baked melt in mouth and make any snack taste great. People usually buy pastry sheets from store as it is time saving and also for best result. But when you bake goods made with homemade pastry sheets the satisfaction level and happiness is doubled. Everyone has their own techniques to make pastry sheets that gives maximum results, so do I have one. My pastry sheets preparation involves just 15 minutes and is a beginner friendly recipe or made specially for beginners I can say, cutting down all the extra time consuming procedure and wait time. These pastry sheets results in absolute flaky puffs but the amount of layers are little less due to the process cut down but will taste fantastic according to your expectation. Though the recipe is really simple and super easy to make we should remember and follow quite a few things before we get to the recipe:
The butter used needs to be cold one for which butter needs to be frozen for 4 hours and should taken out just before use.
Use only cold water to need the dough so put the water in refrigerator for at least 1 hour before kneading the dough.
So colder the things are flakier will be the puffs. Also remember to maintain the cold temperature for the sheet throughout the rolling process which is another important aspect to get flaky texture.
So lets get to the making!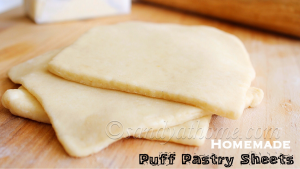 [sam id="1″ codes="true"]
Ingredients
Note

* 1 cup = 160 ml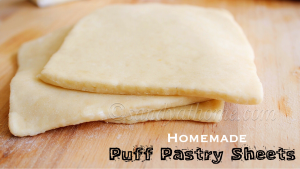 [sam id="2″ codes="true"]
How to make homemade Puff pastry sheet with step by step images

In a bowl add all purpose flour, butter, lemon juice and salt. Mix well and if you can possibly break the pieces with your finger while mixing.

Now add water gradually to form a dough. Add water gradually to make a dough, too much water will not yield flaky dough, so the water content should enough to make a dough that is not soft or stiff.
When the dough is kneaded you will notice chunks of butter here and there which will vanish when we start rolling it.

Now place the dough on a clean surface dusted with flour. Roll the dough into a even rectangle shape.

Fold the dough by bringing the upper end to the middle and bottom part to the middle. Now make the folded dough straight and repeat the process once again. Roll the dough into rectangle shape with at least ¼ inch thickness evenly.

Fold the dough by bringing the upper end to the middle then bring the bottom end to the middle. Make the dough straight and repeat the process once more.

Repeat the same folding and rolling again.

Repeat the same folding and rolling again.

Now after 6 times of rolling you will have a thick pastry sheet built with of layers with no butter pieces. You need to be really quick as we don't want the dough to cool down. Now using a knife or pizza cutter divide the rectangle into 2 and the divide it into individual squares. I got nearly 6 squares cum rectangle. you can use it immediately for baking or can be stored up to 3 days in refrigerator. Now the puff pastry sheets are ready to be be used for any snack of your choice. Below is the image of how these pastry sheets will result.

Puffs made with homemade pastry sheet