Palak rava idli/ palak idli is an instant, healthy and delicious idli that can be prepared quickly without involving much ingredients in its making. Palak idli is light green in color inheriting its color from palak adding its flavors as well to the idli in a relishable way. So when do I make this at home? When I am really bored of regular styled idli, when I want to make a quick and easy breakfast loaded with health without having to put in so much effort, also when I m too lazy to prepare anything for breakfast when I run out of idli batter. Palak rava idli has a preparation exactly same as regular rava idli but of course with enhanced taste and flavors with all the crunchiness from nuts. Adding little baking soda and right amount of water yields super soft and fluffy idli. On the whole this is a beginner friendly recipe. (Use same cup for measuring rava, palak and water) So lets get to the making!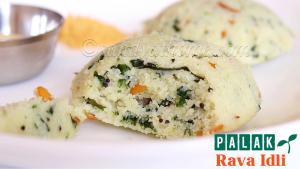 [sam id="1″ codes="true"]
Ingredients
Palak/ spinach – 1 cup (tightly packed, washed and roughly chopped)
Rava/ Sooji – 1 cup
Curd – ¼ cup
Water – 1 cup (approx)
Baking soda – ¼ tsp
Salt – to taste
Mustard seeds – ½ tsp
Urad dal – 1 tsp
Chana dal – 1 tsp
Cashews – 4 to 6
Curry leaves – a spring
Oil – 1 tsp
Oil – for greasing idli plates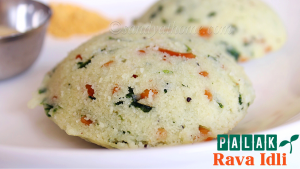 Note

* 1 cup = 160 ml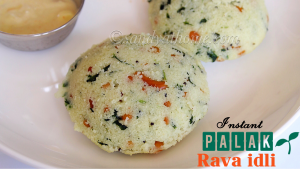 [sam id="2″ codes="true"]
How to make instant palak rava idli with step by step images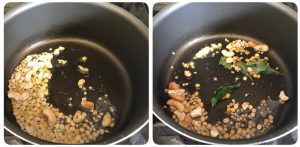 Heat oil in a pan add mustard seeds after it splutters add urad dal, chana dal and cashews after it turns golden brown add curry leaves.

Now add chopped palak. Saute well till the leaves shrink and gets cooked. No need to add water. It took around 4 to 5 minutes in medium flame.

Now add rava/ sooji and give it a good stir until combined well. When yo get nice aroma of roasted rava put off the flame. (I roasted for about 2 minutes in medium flame) Now allow the mixture to cool down completely.

When the mixture has cooled completely add curd and salt. Mix well and add water gradually to form a thick batter just like regular idli batter. ( I used around 1 cup water) Allow the batter to rest for 10 minutes.

After 10 minutes add baking soda and mix well. If you feel the batter is too thick add water in tbsp so that we don't miss the consistency of the batter. Remember thick batter yields in soft and fluffy idlis.

Heat water in a idli steamer. Meanwhile grease idli plates, place cashews in the center of each greased idli mold if desired.

Add idli batter in each mold and place in the idli steamer and steam it for 12 minutes. When the idli looks done put off the flame allow it to cool down for 5 minutes.

After 5 minutes wet a spoon in water and scoop the idli carefully and serve it hot with chutney of your choice!